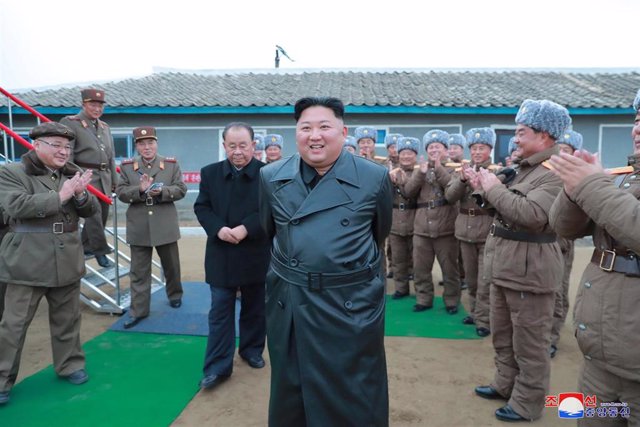 The leader of North Korea, Kim Jong Un, overseeing the launch of the rocket system. – VIA REUTERS / KCNA KCNA
MADRID, Nov. 30 (EUROPE PRESS) –
The North Korean government has attacked this Saturday against the Prime Minister of Japan, Shinzo Abe, whom he has described as "jerk", "political dwarf" and "dog with scabies", after the Japanese leader said the last Missile test launch by Pyongyang was a threat to his country.
Pyongyang calls Japanese Prime Minister Shinzo Abe "asshole" and "dog with scabies"
Through a statement released by the North Korean state news agency (KCNA), an official from the Foreign Ministry has explained that Abe's "ignorance and stupidity" has become clear by failing to distinguish a rocket launcher with the long-range ballistic missile system. "
North Korea has disseminated images with which it seeks to deny the accusations of Japan and the rest of the international community, of testing long-range ballistic missiles, something that the UN Security Council has censored on numerous occasions, restrictions that Pyongyang disobeys by ensuring that they are violating their right to self-defense.
In that sense, Pyongyang has assured that in the photographs it can be seen that it is a rocket launcher and "that even civilians who have no knowledge of military affairs" can realize it "with a single glance".
In that sense, they have assured from the North Korean Government that Abe's "miserable vision" makes them consider the Japanese Prime Minister "as a scared dog" or "a puppy affected by scabies by flattering the American master."