Putin is simplifying procedures for residents of Kherson and Zaporizhia to apply for Russian citizenship
Russian President Vladimir Putin on Wednesday signed a decree simplifying the application procedures for Russian citizenship for residents of Ukraine's Kherson and Zaporizhia regions, which was seized by Russian forces as part of the offensive launched on February 24.
According to Russian news agency Interfax, the document includes changes to an April 2019 document that lowered barriers for residents of the self-proclaimed republics of Donetsk and Lugansk to apply for citizenship.
On February 21, Putin signed a decree recognizing the independence of these republics, located in the Donbass region (east), which have been rocked by armed conflict since 2014. Just three days later he ordered the invasion of Ukraine, a conflict that has been going on actively for more than three months.
Hours before the Russian president's decision, Deputy Chairman of the State Duma Committee on Commonwealth of Independent States (CIS) Affairs Viktor Vodolatski had hinted that "70 percent" of residents in the Russian-held areas of Ukraine want Russian passports receive.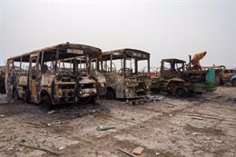 Russia denounces two dead in attacks by "Ukrainian nationalists" on the occupied Cherson region
"In the Liberated Areas, where people are already leading normal lives (…) people have expressed a desire (…) to obtain Russian passports," he stressed, before pointing out that this was due to Kherson and Zaporizhia could be expanded, as the Russian news agency TASS reports.
"Our law is flexible, adaptable, regardless of the specific military operation," he stressed. "I believe that under federal law enforcement there will be no problems for people from these areas to obtain citizenship," Vodolatski argued.