Putin and Zelenski hold their first face-to-face meeting in Paris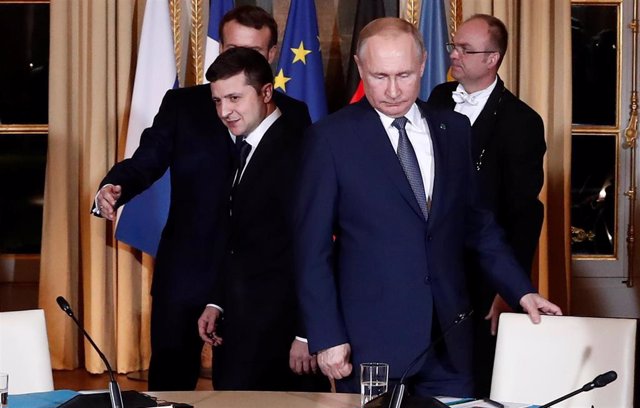 Volodmir Zelenski and Vladimir Putin at the summit of the Normandy Quartet in Paris – REUTERS / POOL NEW
PARIS, Dec. 9 (EUROPE PRESS) –
The Russian president, Vladimir Putin, and his Ukrainian counterpart, Volodimir Zelenski, have held their first face-to-face meeting in Paris on Monday, with which they staged the thaw of bilateral relations after years of tension.
Zelenski and Putin have interviewed shortly after the conclusion at the Elysee Palace of the Normandy Quartet summit among the leaders of Germany, Russia, France and Ukraine after more than two hours of meeting, reports the Russian news agency Sputnik.
The so-called Normandy format seeks to resolve the territorial and war litigation of separatist militias in eastern Ukraine, backed by Moscow.
Russian presidential adviser Yuri Ushakov has explained that the meeting has no time limit, although according to the protocol it should last about 45 minutes.
Previously Zelenski and Putin have held bilateral meetings with French President Emmanuel Macron and German Chancellor Angela Merkel.
After the meeting of Putin and Zelenski, the summit of the Normandy Quartet will resume. "The talks of the leaders of the Normandy Quartet were interrupted for a bilateral meeting between the president of Ukraine, Volodimir Zelenski, and the president of the Russian Federation, Vladimir Putin," explains a statement posted on the Facebook account of The Ukrainian Presidency
"The meeting of the two heads of state has already begun and then the negotiations will resume in the four-party format," says the text, collected by Sputnik.