Putin and Erdogan call for a ceasefire in Libya starting Sunday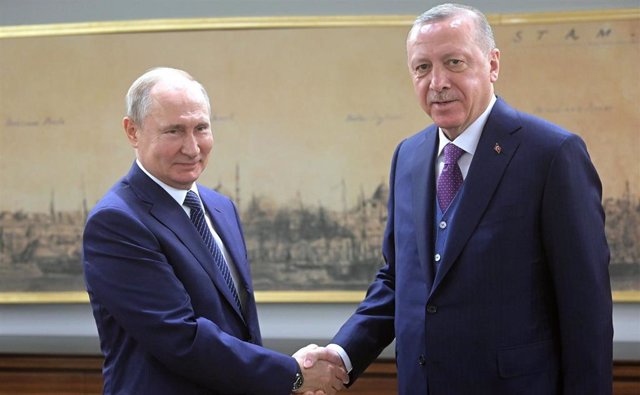 Vladimir Putin and Recep Tayyip Erdogan – – / Kremlin / dpa
MADRID, Jan. 8 (EUROPE PRESS) –
The presidents of Russia and Turkey, Vladimir Putin and Recep Tayyip Erdogan, respectively, have called to declare a ceasefire in Libya starting next Sunday, where General Jalifa Haftar is immersed in an offensive to evict the recognized Libyan Government from Tripoli internationally.
As the Russian Foreign Minister Sergei Lavrov explained in a press conference in Istanbul, the two leaders have transferred to "all Libyan parties" a call to "cease hostilities and declare a ceasefire as of Sunday, January 12 ".
For its part, its Turkish counterpart, Mavlut Cavusoglu, has confirmed that both Ankara and Moscow advocate the cessation of hostilities in Libya, as reported by the Russian agency Sputnik.
The Turkish Parliament approved last week, at Erdogan's request, the deployment of troops in Libya in order to support the Government of Fayez Serraj, which tries to curb the advance of Haftar forces, which has the backing of the government Libyan based in the east of the country.
In turn, Moscow has been supporting Haftar and has even denounced the presence of Russian mercenaries in support of its Libyan National Army.