Pupils' 1980s message in a bottle resurfaces in Florida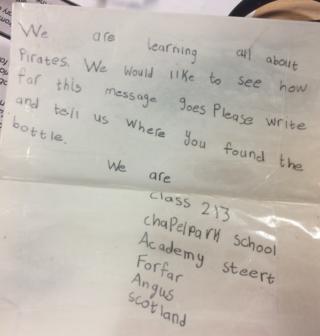 A message in a bottle from a 1980s Forfar primary school class has washed up more than 4,000 miles away in Florida.
The undated letter came from children who sent the message into the North Sea while studying a project about pirates.
It was found by American couple Ruth and Lee Huenniger last September.
Retired teacher Fiona Cargill, 60, is certain that the letter was written by one of her Chapelpark Primary School classes in the 1980s.
Ms Cargill described the discovery as "amazing".
She said: "I believe it is one class of primary 2/3 in particular because one of the children was related to a trawlerman in Arbroath who would take the bottle in their boat and throw it a bit further out so that it was less likely to just wash back ashore."
Mr and Mrs Huenniger found the bottle against a chain link fence, 500 feet from the Atlantic Ocean.
Mrs Huenniger said the bottle was in "remarkable condition".
She said: "Lee could not get the top off of it but saw a corner of the paper near the neck of the bottle.
"He was going to put in the recycle bin but decided to cut it open."
The Huennigers addressed their reply letter to the school primary school, which had closed in 2007.
It eventually ended up in the possession of staff at Whitehills Primary, one of the schools where Chapelpark children were relocated after the school's closure.
Mrs Huenniger said: "It was several weeks, maybe six, before we received a response.
"We threw the original bottle out because we thought we were not going to hear anything else about the note.
"We were pleasantly surprised when we received the response from the previous teacher at the school that is no longer there.
"The bottle and note was amazingly well preserved to have been in the ocean for so long."