PSNI station sales on hold over Brexit uncertainty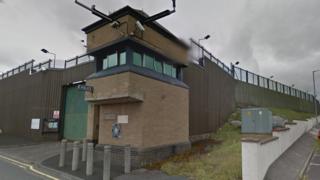 The PSNI has confirmed it has halted the sale of three border police stations as a "precautionary step" over Brexit.
The stations are Castlederg and Aughnacloy in County Tyrone and Warrenpoint in County Down.
All three had been "previously identified for disposal".
Brexit has returned the Irish border to the centre of Anglo-Irish politics and it is still unclear what it will look like when the UK leaves the EU.
Brexit: UK 'has two weeks' to submit border plans
BBC News NI previously reported that the sale of Warrenpoint station had been halted, and that it was believed Aughnacloy and Castlederg stations were also to be taken off the market.
This has now been confirmed by the PSNI.
"In light of the UK referendum vote to leave the EU, we are reviewing decisions we previously made about some of our stations identified for disposal," Assistant Chief Constable Stephen Martin said.
"Accordingly, it is our intention to pause the disposal of three stations in border areas, namely Warrenpoint, Castlederg and Aughnacloy.
"As the PSNI has not yet received details regarding potential border arrangements, this is a precautionary step to ensure that, whatever Brexit looks like in the future, we will be able to continue to keep our communities safe."
Newry, Mourne and Down Council wanted to buy the former station in Warrenpoint, which went on the market in 2016.
The plan was to convert it into a community centre.
Customs checks
The UK and EU have both said they do not wish to see a hard border after Brexit, but they have not been able to agree on how to avoid checks on goods once the UK has left the customs union and single market.
If there is no Brexit deal it is likely customs officials will have to carry out the checks and it will be the job of the police to protect them.
The Chief Constable of the PSNI is to ask the government to fund the recruitment of up to 400 additional officers for operations along the border after Brexit.