PS, PPD and PR ask for a plebiscite and a new constitution for Chile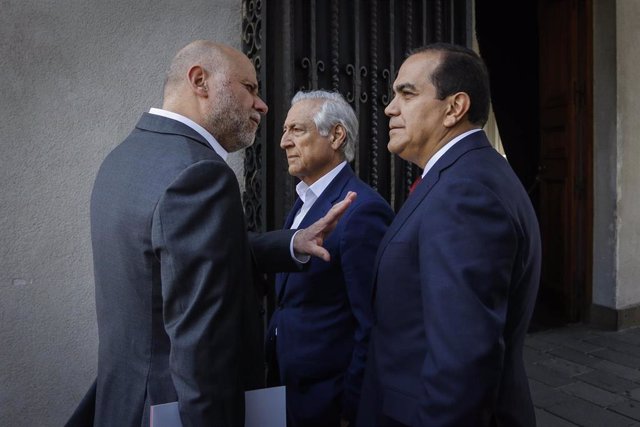 Alvaro Elizalde, president of the Socialist Party; Heraldo Muñoz, president of the Party for Democracy, and Carlos Maldonado, president of the Radical Party – AGENCIA UNO / SEBASTIAN BELTRAN GAETE
MADRID, 2 Nov. –
The opposition parties that make up Progressive Convergence – Party for Democracy (PPD), Socialist Party (PS) and Radical Party (PR) – have raised this Saturday a counterproposal to the "social agenda" announced by President Sebastián Piñera that goes through a plebiscite and a new constitution.
The three formations have met at the headquarters of the Congress in Santiago to unify their proposals, which have, at their most prominent point, a plebiscite to reach a new Constitution.
"We are going to play it entirely for a plebiscite. People are expressing their discomfort in the streets and it corresponds that they pronounce themselves democratically through a plebiscite," said the socialist leader, Álvaro Elizalde, according to Radio Cooperativa.
"Additionally, we are going to propose an ambitious social agenda that, to a large extent, responds to citizen demands, because there are such needs that affect Chileans in middle and vulnerable sectors that cannot continue to wait. That is why the proposals that we are formulating are for an immediate solution, "added Elizalde.
"We also have medium and long-term proposals, because we understand that not everything is resolved overnight, but we need immediate responses to the drama that Chilean families are experiencing," he said.
The leader of the PPD, Heraldo Muñoz, has highlighted the main social proposals of Progressive Convergence: "Readjustment to the basic solidarity pension not in 20 percent (as proposed by the Government), but in 50 percent, so that no pension is under the line of poverty, pricing of medicines and gratuity in a certain list of drugs most used for older adults. "
On the other hand, "it cannot be that the answer to the situation of low wages is simply that the State assumes responsibility (subsidizing the private sector), so we have to move towards a minimum wage of 350 thousand pesos. Likewise, we are going to reduce the diet of parliamentarians, "he explained.
"The issues we are raising are all bankable," said the president of the Radical Party, Carlos Maldonado. "By rejecting the reintegration there are 800 million dollars, by maintaining the compensation measures there are 400 million dollars more, by putting a tax on the richest there are many millions of dollars more that can be raised to finance these measures," he explained Maldonado
In this sense, "we are making absolutely responsible proposals, (but) it is the Government that does not want to open up to make real changes," Maldonado said.