Protesters set fire to the headquarters of the two main Lebanese political parties in the north of the country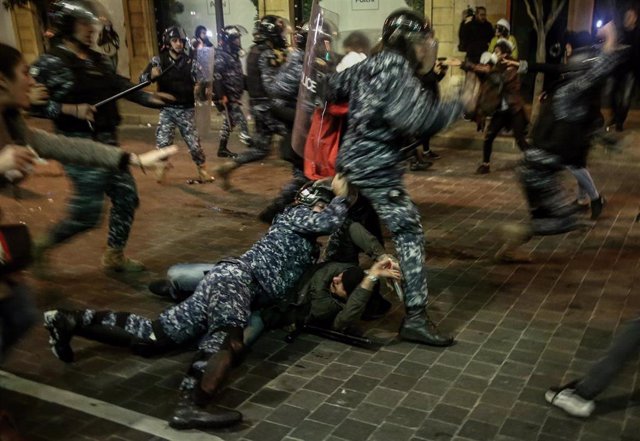 Riots in Beirut – Marwan Naamani / dpa
MADRID, Dec. 15 (EUROPE PRESS) –
Unidentified attackers burned the headquarters of the two main Lebanese political parties on Sunday in two attacks in the north of the country.
Specifically in Jaribet al Yindi the headquarters of the Future Party of the acting prime minister, Saad Hariri, has been attacked, while in Yedidat al Yuma the headquarters of the main party of Parliament, the Free Patriotic Movement of the Lebanese president, Michel Aoun, has been attacked .
The Free Patriotic Movement has reported that the belongings that were in the building have been very damaged and much of it is burned, according to the official Lebanese news agency, NNA.
These incidents happen after the serious riots between protesters and riot police on Saturday night in the capital, Beirut. Agents used tear gas, water cannons and rubber bullets to disperse protesters in the city center. The clashes have resulted in more than 130 people injured, according to Lebanon's Red Cross and Civil Protection.
On Sunday, Interior Minister Raya Hafar al Hasan has ordered an investigation into these riots and has reported that there are injuries both among protesters and security forces.
Al Hasan has held individuals "infiltrated" responsible for the outbursts of violence and has asked protesters not to tolerate those who want to take advantage of their protests for political reasons.
The resignation of Hariri, presented in October, will only become effective when the president of the country, Michel Aoun, designates a substitute to solve the reigning paralysis in Lebanon, whose economy is going through its worst moment since the end of the civil war in 1990.
The Lebanese president convened for December 9 a round of parliamentary consultations to elect the new prime minister, after verifying certain progress on an agreement for a consensus candidate, although it was postponed late until December 16.
The protests in Lebanon started in early October after a local currency crash for the first time in the last two decades, but discontent dragged on since July, when Parliament approved an austerity budget to address the deficit.