Protesters dig into Hong Kong university campuses on a new day of protests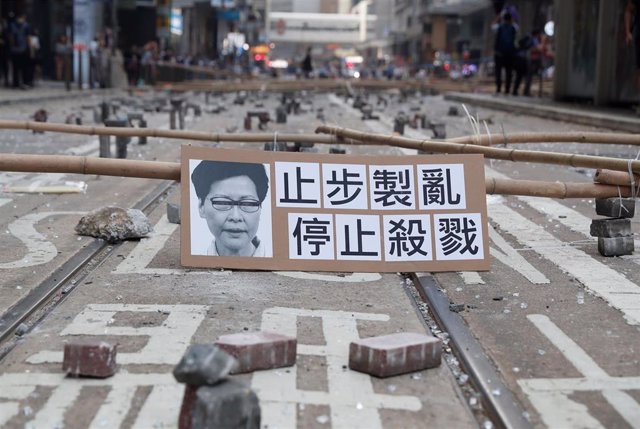 Protests against the Government of Carrie Lam in Hong Kong – REUTERS / SHANNON STAPLETON
HONG KONG, Nov. 13 (Reuters / EP) –
Groups of protesters have entrenched themselves in several university campuses in Hong Kong on Wednesday in a new day of protests against the Carrie Lam government, calling for a greater democratic opening.
Protesters, mostly students, have spent much of Wednesday building barricades and gathering homemade food and weapons, while hooded groups have caused chaos in transport and commerce.
Police have accused protesters entrenched at the Chinese University of Hong Kong (CUHK) of turning the campus into a "weapons factory", specifically, Molotov cocktails.
"A university is supposed to be the cultivation field of the leaders of the future, but it has become a battleground for vandals and criminals," police spokesman Tse Chun Chung said in press statements.
At lunchtime, some thousand protesters have concentrated in the financial district. Already at night, the Police have used armored vehicles and rubber bullets to disperse those who were blocking traffic. At the height of the Exchange, agents have charged against some protesters.
In this context, Hong Kong education authorities have announced that all schools will remain closed on Thursday. Some universities have also announced that they will offer online classes so that students do not have to travel to the occupied campuses.
"It is very painful to see my city like that, to see how angry everyone is," said Alexandra, a 42-year-old executive. "We all want to return to normal, but how can the Government achieve this if it does not listen to what the Hong Kong people are asking for?"
The protests in Hong Kong began last June against a controversial law of extradition to mainland China. Although the Government has renounced it, the demonstrations have continued with greater demands, including universal suffrage.
More than 4,000 people have been arrested in these months. This week alone, there have been 142 arrests and 81 injured, including a ten-month-old baby. The official media 'China Daily' has condemned a violence that is the result of a "hormone rebellion."