Protesters begin to withdraw from the US Embassy in Baghdad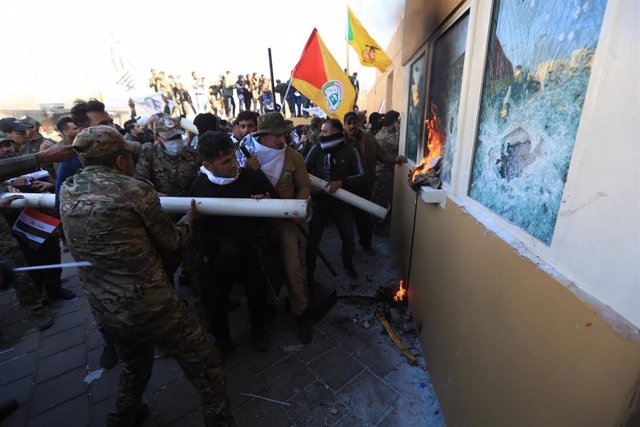 Riots around the U.S. Embassy in Baghdad, Iraq – met
MADRID, Jan. 1 (EUROPE PRESS) –
Protesters concentrated in the immediate vicinity of the US Embassy in Iraq have begun to leave the area following the request in that direction of the Popular Mobilization Forces (FMP), bombed Sunday by US fighter jets.
The FMP has urged protesters to withdraw "in respect" to the request of the Iraqi government and stressed that "the message has arrived," reports the Iraqi news agency NINA.
"We are going to ask the masses concentrated in the US Embassy to withdraw out of respect for the decision of the Iraqi Government that has ordered it and to preserve the prestige of the State," NINA said, citing the FMP.
In particular, the FMP have valued "the position of the commander in chief of the Armed Forces and of political, religious, cultural and popular personalities who reject and denounce the aggression against the FMP."
In addition, they place the population to participate in the concentrations in remembrance of the "martyrs" summoned in Baghdad and in the other provincial capitals.
At least 31 members of Kataib Hezbollah died Sunday in US fighter bombing on five group targets in Iraq and Syria. Kataib Hezbollah is part of the FMP, a pro-Iranian paramilitary coalition serving the Iraqi Government.
The attack has caused the condemnation by the Iraqi authorities, who have warned that they will review their relations with the United States, and massive popular mobilizations that have resulted in incidents surrounding the US Embassy in Baghdad.