Protest leaders in Bolivia deliver Morales's resignation request at the Government Palace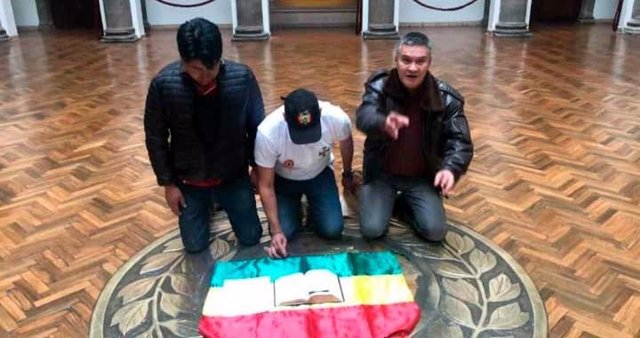 Fernando Camacho and Marco Pumari at the Government Palace of La Paz – TWITTER
MADRID, Nov. 10 (EUROPE PRESS) –
The leaders of the civic committees Fernando Camacho and Marco Pumari have delivered a letter with the request for resignation addressed to President Evo Morales in the Government Palace of La Paz.
Camacho and Pumari have entered the official headquarters with the letter, the Bible and the Bolivian flag, as they had promised, after a stopover at the headquarters of the Tactical Unit of Police Operations (UTOP).
A photograph of both kneeling accompanied by lawyer Eduardo León has been disseminated on social networks. In order to enter the seat of the Government they had help from the Police to obtain the entrance, according to the Bolivian radio station Erbol.
The UTOP has led the mutiny of police officers at first with labor claims but later to join the demands of resignation of President Evo Morales launched by the opposition. Camacho is the president of the Civic Committee of Santa Cruz and Pumari, the one of the Civic Committee of Potosí.
This Sunday, the Bolivian president, Evo Morales, has announced the cancellation of the controversial elections of October 20 after the publication of a report by OAS observers that confirms the existence of numerous irregularities, as the opposition denounced.
However, the opposition demands the resignation of Evo Morales and that it cannot be submitted to the new elections. An undetermined number of police officers have mutinied with labor demands and seconded the demand for Morales to resign and has asked the Army to join the protest.