Prince of Wales 'deeply moved' in televised Easter message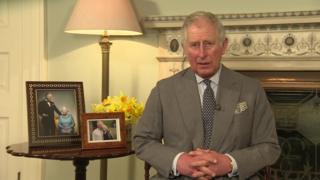 The Prince of Wales has drawn attention to people suffering religious persecution in a televised Easter message.
The prince said he was "deeply moved" by the courage of those who forgave their persecutors.
The message was addressed to people of all faiths around the world.
"My heart goes out to all who, this day, whatever their beliefs, are being persecuted on religious grounds," he said.
He continued: "At this time of Easter, when our minds are recalled to the suffering of our Lord 2,000 years ago, we think especially of those Christians who are suffering for their faith in many places around the world.
"Over the years I have met many who have had to flee for their faith and for their life or have somehow endured the terrifying consequences of remaining in their country.
"I have been so deeply moved and humbled by their truly remarkable courage and their selfless capacity for forgiveness despite all they have suffered."
The prince went on to say of Judaism, Christianity and Islam: "All three Abrahamic faiths have known and continue to know the bitterness of persecution when religion has fallen into the barbaric grip of those who distort and misrepresent faith."
Clarence House said the prince's message was inspired by his recent meetings with Christian Church leaders from the Middle East including the Coptic Pope.
The prince concluded his message by urging people to show love for those around them.
"Jesus summarises the 10 commandments into two requirements: that we should love God and love our neighbour as ourselves," he said.
"It is therefore my special prayer this Eastertide that they will be your guide and your inspiration."