Prince Charles meets Nice terror attack victims' families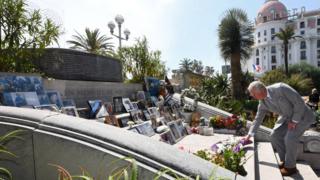 The Prince of Wales has been meeting families of the victims of the Nice terror attack as part of a five-day tour of France and Greece.
One man who attempted to stop the July 2016 attack said Prince Charles called him "remarkable and courageous".
The prince, who is touring with Camilla, the Duchess of Cornwall, laid flowers at the city's memorial.
Mohamed Lahouaiej-Bouhlel killed 86 people when he drove a lorry into a large crowd on Bastille Day.
The 31-year-old Tunisian was shot and killed by French Police.
The royal couple stood in silence as they looked at the memorial on the Promenade des Anglais, the beach front road where the attack took place.
The prince then began speaking to some of the victims' families and was shown a framed photograph of two girls who lost their lives.
One young woman cried as she spoke to the couple about one of her loved ones.
The prince also met Franck Terrier, 51, who drove his scooter alongside the speeding lorry and jumped on to its cab, punching the driver through the window in a desperate attempt to force him to stop.
Mr Terrier said he was "honoured" to receive the prince's praise but said he did not think of himself as a hero.
He said he was just "eating an ice cream" with his family when the attacker accelerated at them.
Anne Murris, whose daughter Camille was one of the victims, said she showed the prince a collage of pictures of her daughter when he paid his respects at the memorial.
She said she told him of the different ways in which the victims are remembered in the city – including 86 stones on the city's beach each, with a victim's name painted on it.
Ms Murris described the royal visit as "an honour".
When given a memorial stone as a gift, the prince said: "I hardly think I merit it."
The royal couple also met Dr Daniele Navarro and his wife Nathalie who were the only first-aiders present for some 15 minutes after the attack.
The Navarros lost a very close friend and brother in the attack.
Mrs Navarro said the prince and Duchess of Cornwall showed "extraordinary sympathy" and spoke to her "with heart" and "great sincerity".
At an evening reception, Prince Charles spoke of a mutual "deep affection" and "enduring" close ties with the people of Nice.
The prince said: "You cried with the Nicois and the Nicois cried with all the British people after the tragedies of Manchester and London.
"We are neighbours by fate, partners by choice and friends because of the shared experience and deep affection that binds us.
"Time and again we have stood together, and struggled together, for the values that we both cherish.
"These are ties that bind and ones that will endure as our relationship continues to evolve."