Prince Charles and Camilla surprise newly-weds in Nice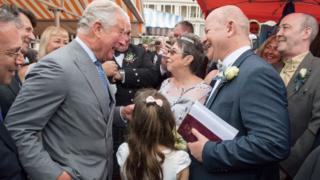 A newly married couple had a "lovely surprise" when they met the Prince of Wales and the Duchess of Cornwall as soon as they left their wedding venue.
Kath Martin, originally from Glasgow, and Laurent Mayer had just married in Nice when they met Prince Charles and Camilla at the city's flower market.
The royal couple are on a five-day tour of France and Greece.
The prince earlier called the impending marriage of Prince Harry to Meghan Markle "absolutely marvellous".
Ms Martin and Mr Mayer, who live in Nice, married at the city's town hall on Wednesday morning before making a short walk to the market.
There they unexpectedly met the duchess first before coming face-to-face with the prince.
He asked the new bride how long she had lived in the French Riviera city and when and where she had got married.
Ms Martin described the experience as "a lovely surprise".
Earlier, the prince spoke to reporters at the flower market about his second son's wedding.
He said the wedding in Windsor on 19 May was "going to be a very special day" and it had been "very nice" and "exciting" getting to know Ms Markle.