Presenters' stress over BBC 'tax pressure'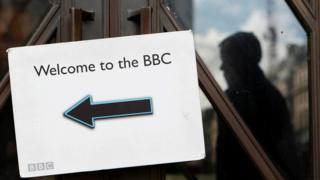 A BBC local radio presenter has revealed to MPs that she tried to kill herself, partly because of stress over her employment arrangements.
The anonymous presenter was among the BBC TV and radio presenters to submit evidence to a parliamentary inquiry.
Many of them said they were pressured by the corporation to set up personal service companies (PSCs), which led to huge bills for unpaid tax for some.
The BBC has now announced an independent dispute resolution process.
It could lead to the corporation paying a share of historical bills which in some cases run into thousands of pounds.
'Hugely bullied'
Ahead of Tuesday's hearing, the committee released written evidence from presenters who claim the BBC put pressure on them to be employed via a PSC, rather than as a member of staff, which resulted in them being investigated by HM Revenue & Customs.
The anonymous female radio presenter told the committee she was "forced" to set up a PSC in 2011 – even though she lost out financially as a result.
She said she was later forced to work on three-month contracts with "no sick pay, no holiday, no permanent contract" opposite a better-paid male staff member who had such benefits.
"I have been paid too little due to the use of incorrect tax codes, been subject to clawback, received no information for months on end as to what I was going to live off," she said.
"My mental health deterioration is absolutely linked to the increased stress of working for the BBC.
"I have always loved working for the BBC but the way they have behaved has reduced me to more than tears. It's one of the factors that three days ago took me into my loft where I tried to hang myself."
Another unnamed presenter said: "My physical and mental health has suffered and the quality of life with my young family has been impacted. In the darkest of days and the spectre of retrospective action from HMRC hanging over me daily, I contemplated taking my own life."
If you are feeling emotionally distressed and would like details of organisations which offer advice and support, click here or you can call for free, at any time, to hear recorded information on 0800 066 066.
Senior MP Damian Collins, the chair of the House of Commons culture committee, said the BBC had fallen "well below" the standards expected in its treatment of staff and said he would be demanding answers from director general Lord Hall.
On Tuesday, DJ Liz Kershaw, radio presenter Kirsty Lang and financial journalist Paul Lewis are giving evidence to an inquiry by the committee into the use of PSCs.
The committee has also published letters and emails from the BBC to on-air talent including BBC 6 Music presenter Kershaw, in which it made clear it would offer long-term engagements only if their services were provided through a company or partnership.
Another presenter told the committee she was given "no alternative" to setting up a PSC if she wanted to continue to be employed after maternity leave, only for the HMRC to rule she was an employee of the BBC and send her a bill for tens of thousands of pounds in employers' National Insurance contributions.
"The way the BBC has employed me has meant I have lost out on a life-changing sum of money, but it is the emotional cost which is more concerning," she said.
"Life-altering levels of stress" had affected her family, health and well-being, she said, adding: "Over many years I have been utterly let down, and mistreated by the corporation, treated like an alien species because I am a presenter. I am concerned that it has done irreparable damage to me."
TV and radio presenter Samira Ahmed also gave evidence, saying she felt "hugely bullied" over her employment status.
And BBC Radio Oxford presenter Charles Nove told the committee he was concerned he could face homelessness because of the "unholy mess" around his pay.
Mr Collins said the accounts were "highly disturbing".
"By allegedly being coerced into these contracts these individuals may have been denied employment rights, and some face liability for huge tax bills," he said.
"This evidence indicates that the BBC is falling well below the standards we would expect in terms of how it treats its staff."
'Appropriate or reasonable'
Presenters will now be able to ask for a review of their cases through the Centre for Effective Dispute Resolution.
The process will consider whether it is "appropriate or reasonable" for the BBC to make a contribution towards historic demands for employer's National Insurance.
In a statement, the BBC said it had "always tried to balance our responsibilities to presenters with our responsibility to spend the licence fee appropriately".
It added: "The BBC is aware that there is a very high hurdle where public money is concerned and the whole purpose of the work is to inform and advise, so we cannot prejudge the outcome.
"The process will only consider whether the BBC should contribute towards demands for employers' National Insurance Contributions, not demands for other taxes which individuals are liable for."
Follow us on Facebook, on Twitter @BBCNewsEnts, or on Instagram at bbcnewsents. If you have a story suggestion email entertainment.news@bbc.co.uk.