Premier League: What can happen on final day of season?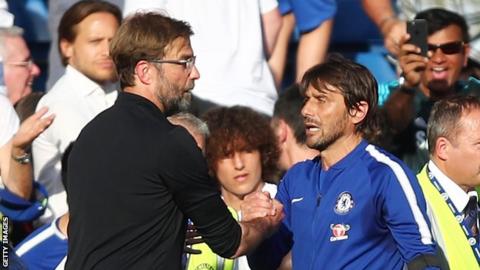 There are two major issues left to be resolved in the final round of Premier League fixtures on Sunday.
Liverpool and Chelsea are hoping to claim the last of the four Champions League qualification spots.
Jurgen Klopp's Liverpool currently hold the position, with a two-point advantage over Antonio Conte's side.
Swansea or Southampton will fill the final relegation place, with it likely to be the Swans, who are three points and 11 goals worse off than the Saints.
There are 10 top-flight matches in total, all starting at 15:00 BST.
Sunday's Premier League fixtures
Burnley v Bournemouth
Newcastle United v Chelsea
Crystal Palace v West Brom
Southampton v Manchester City
Huddersfield Town v Arsenal
Swansea v Stoke
Liverpool v Brighton
Tottenham v Leicester City
Manchester United v Watford
West Ham v Everton
With victory at Southampton, Manchester City will cap their superb title-winning season by becoming the first team in Premier League history to win 100 points.
Burnley are assured of seventh place and Europa League football next season, meaning that the majority of Sunday's games represent a tussle for league positioning and the extra prize money that comes with a higher position.
Each place is worth about an extra £2m to clubs, with champions Manchester City taking away £38.8m and whichever club finishes bottom claiming £1.9m.
Premier League prize money table
Pts
GD
Prize money
Possible final pos.
1. Man City
97
78
£38.8m
1
2. Man Utd
78
39
£36.9m
2
3. Tottenham
74
37
£35m
3-4
4. Liverpool
72
42
£33m
3-5
5. Chelsea
70
27
£31.2m
4-5
6. Arsenal
60
22
£29.1m
6
7. Burnley
54
-2
£27.2m
7
8. Everton
49
-12
£25.2m
8-9
9. Leicester
47
-3
£23.3m
8-9
10. Newcastle
41
-11
£21.4m
10-15
11. Crystal Palace
41
-12
£19.4m
10-15
12. Bournemouth
41
-17
£17.5m
10-15
13. Watford
41
-19
£15.5m
10-15
14. Brighton
40
-16
£13.6m
10-16
15. West Ham
39
-22
£11.6m
10-17
16. Huddersfield
37
-29
£9.7m
14-17
17. Southampton
36
-18
£7.7m
15-17
18. Swansea
33
-27
£5.8m
17-18
19. West Brom
31
-23
£3.8m
18-20
20. Stoke
30
-34
£1.9m
18-20
Liverpool almost over the line
Liverpool are in pole position to finish in fourth place.
Chelsea's failure to beat Huddersfield at home on Wednesday and the Reds' vastly superior goal difference means Klopp's side need only a point at home to Brighton to ensure a place in next season's Champions League.
Liverpool can even finish third – if they win and Tottenham fail to beat Leicester at home.
If Chelsea are to finish fourth, they must beat Newcastle at St James' Park and hope Liverpool lose. Anything else means Europa League football for the Blues.
Swansea on the way out?
Swansea are almost certain to be playing Championship football in 2018-19.
Their 1-0 home defeat by relegation rivals Southampton on Tuesday means they occupy 18th place in the table heading into the final day, three points and nine goals worse off than the Saints.
The only glimmer of hope for the Swans is that they face relegated Stoke at home, while Southampton travel to Manchester City, who have scored a record 105 goals this season.