Poundworld on brink of administration putting 5,300 jobs at risk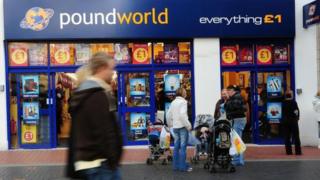 Poundworld is poised to announce its intention to appoint administrators.
The move will allow the company 10 days to two weeks to continue talks with potential buyers without the company's creditors being able to make a claim on the business.
It also allows its staff and suppliers to continue to be paid.
It is understood that investment company R Capital is in talks to try to buy Poundworld, which has 5,300 workers and 355 stores.
Poundworld, which also trades under the Bargain Buys brand name, serves two million customers a week. It is owned by the US private equity firm, TPG.
Earlier this week, talks with potential purchaser Alteri Investors, whose website says it specialises in "challenging retail situations", collapsed.
About 100 of Poundworld's outlets were already under threat of closure, but were kept open while takeover talks took place.
Retail woes
Deloitte is understood to be standing by to be appointed administrator if the company fails to find a buyer.
Sources have played down the possibility of former owner Chris Edwards being able to buy the company outright.
Poundworld has been losing money for the past two years. Losses for the financial year 2016-17 were £17.1m, up from £5.4m the year before.
Like many retailers, Poundworld has been hit by falling consumer confidence, rising overheads, the weaker pound and the growth of online shopping.
What is R Capital?
The company was founded in 2004 and has been involved over 50 investments across the UK and Europe
It bought Little Chef and attempted to turn round the business with the help of the chef Heston Blumenthal.
The company bought Tie Rack in 2013 and sold it to Samsonite in 2015 for £15.7m.
Its current portfolio include the property company Cluttons, the Harley Medical Group and Odyssey Health Clubs.
Earlier on Thursday, House of Fraser announced it was planning to close 31 of its 59 stores including its flagship outlet on London's Oxford Street.
Retailers including Maplins, Toys 'R' Us, Mothercare, Carpetright plus a string of restaurant chains have hit the headlines this year because of trading trouble.
Poundworld, which has its headquarters in West Yorkshire, was formed in 2004, but it says it can trace its origins "back to 1974 and a market stall in Wakefield, West Yorkshire".
TPG, which bought a majority stake in Poundworld in 2015, also controls the restaurant chain Prezzo whose landlords and creditors agreed a restructuring last month.