Postponed session of dialogue between Government and indigenous people scheduled for Tuesday in Ecuador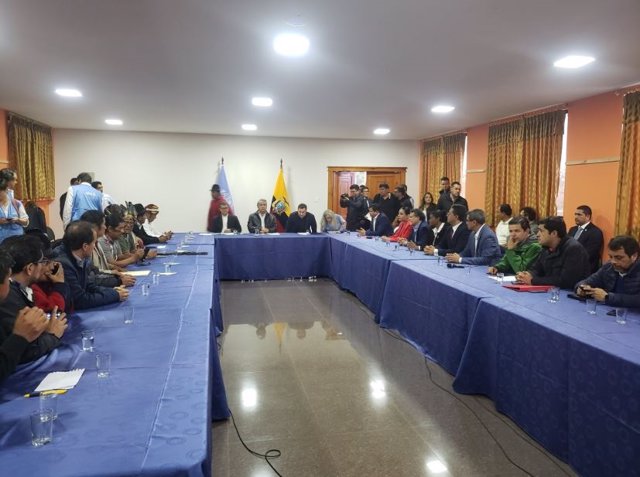 Dialogue table of the Government and indigenous people in Ecuador. – UN ECUADOR
MADRID, Oct. 15 (EUROPE PRESS) –
The session of the dialogue between the Ecuadorian Government and indigenous representatives that was scheduled for Tuesday has been postponed, as reported by the Episcopal Conference and the United Nations, which act as mediators in these talks with a view to resolving the political crisis unleashed by economic reform .
"The Ecuadorian Episcopal Conference and the United Nations System report that the dialogue between the Government and the workers movement convened for today, Tuesday, October 15, has been postponed," they said in a joint statement without explaining the reasons.
"We remain in permanent contact with the representatives of the workers' organizations of Ecuador in order to create the appropriate conditions that foster a transparent and effective dialogue in favor of the country," they added.
The president, Lenín Moreno, offered dialogue to the protesters, mainly indigenous, but also unions and students, to end the protests that broke out last week, when he announced the "package" of economic adjustment agreed with the IMF in return of 4.2 billion dollars.
In the beginning, Moreno refused to reverse in the most controversial measure, the elimination of fuel subsidies, but finally on Sunday he agreed to revise decree 883, which contained the measure, and on Monday he repealed it with the intention of Negotiate new adjustments with protesters.
The indigenous people, for their part, agreed to end the protests, which allowed Quito, the epicenter of the popular mobilization against the Government, to recover normalcy on Monday.