Poppi Worthington inquest: Toddler 'was sexually abused'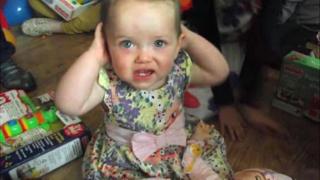 Toddler Poppi Worthington was sexually abused by her father before she died, a coroner has ruled, finding her death was caused by asphyxia.
Coroner David Roberts said Paul Worthington assaulted his daughter in his be, laid a cover over her and went to sleep.
He said she died because her ability to breathe was compromised as a result of "an unsafe sleeping environment."
The coroner said Mr Worthington's account did not "stand up to scrutiny".
During the three-week inquest at Kendal Coroner's Court, Poppi's father declined to answer 252 questions relating to the circumstances surrounding her death.
Paramedics were called to the 13-month-old's home in Barrow, Cumbria, on 12 December 2012 and she was later pronounced dead at Furness General Hospital.
In January 2016 – as part of family court proceedings involving Poppi's siblings – a judge revealed his findings that Mr Worthington "probably" sexually assaulted his daughter shortly before her death.
Mr Worthington has denied any wrongdoing and has not been charged with any offence, with the Crown Prosecution Service saying there is insufficient evidence.