Pompeo stresses that the United Kingdom is at the gates of a "historical change" after its encounter with Johnson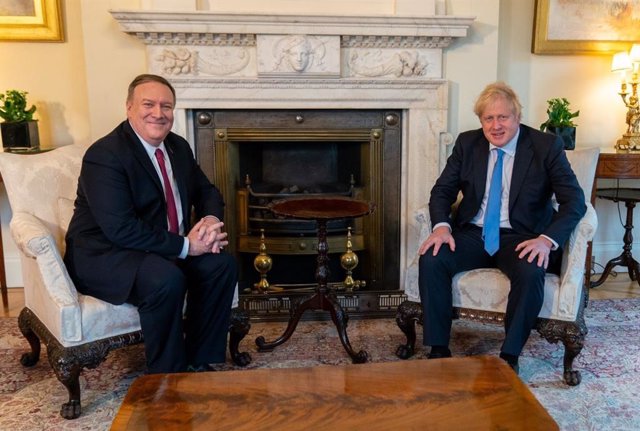 British Prime Minister Boris Johnson and US Secretary of State Mike Pompeo. – DEPARTMENT OF STATE
MADRID, 30 Jan. –
The US Secretary of State, Mike Pompeo, stressed on Thursday that the United Kingdom is at the gates of a "historical change" after his meeting with British Prime Minister Boris Johnson, with whom he said he had a "great conversation" .
"Always a pleasure to talk with Prime Minister Boris Johnson. The United Kingdom is just one step away from a historic change and I am delighted to be able to support our greatest ally in order to strengthen our robust relationships and work together to move forward with our main priorities, "Pompeo said in a message spread on his Twitter account.
The meeting between the two, which has taken place in Downing Street, takes place in the face of leaving the country of the European Union, which will be effective on February 1. Pompeo, which has met in turn with Foreign Minister Dominic Raab, aims to propose a possible trade agreement between Washington and London once Brexit occurs.
"I have joined Dominic Saab in a candid conversation in which we have exchanged fantastic ideas," Pompeo said before pointing out that "these dynamic relationships are what make bilateral and inter-people relations so strong."
Regarding the Huawei issue, the US secretary has clarified that although the US government does not approve the decision of the United Kingdom to authorize the technology giant to participate in a limited way in the development of its 5G network, the matter will not affect relations bilateral when agreeing to a commercial pact after Brexit.
The British authorities announced Tuesday that they will allow Huawei's participation in the development of the country's 5G network, but said the Chinese company will be subject to restrictions as it is considered "high risk."
After passing through the United Kingdom, Pompeo plans to travel to Ukraine to meet with the president, Volodimir Zelenski, as well as other Ukrainian politicians, according to a statement from the State Department.
His meeting with Zelenski is of great importance, as it represents a central figure in the framework of the political impeachment against the US president, Donald Trump, which is taking place in the Senate precisely in relation to a conversation held by the magnate New Yorker with the Ukrainian leader.
Pompeo will then visit Belarus, Kazakhstan and Uzbekistan, as stated in the State Department document. "It will express its support for a region of Central Asia that is better connected, more prosperous and safer, consistent with the new United States Strategy for Central Asia," the text said.