Police officer filmed punching woman on New Jersey beach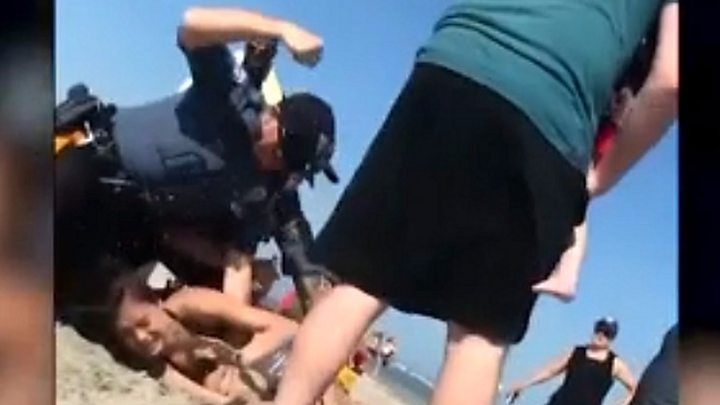 Police in the US state of New Jersey have opened an inquiry after a video emerged showing an officer punching a woman in the head during an arrest.
The footage, posted on social media on Saturday, shows three officers from the Wildwood Police Department attempting to detain Emily Weinman, 20.
Ms Weinman was later charged with illegal possession of alcohol on the beach and for resisting arrest.
Two of the officers have been placed on administrative duty, officials said.
The incident, which occurred on a beach on Memorial Day weekend in the US, shows Ms Weinman being wrestled to the ground in a swimsuit and shorts.
With one officer on top of her, she kicks out at another, who then holds her legs down by gripping her ankles.
One officer is then seen punching her in the head with his fist before placing her in a headlock and pinning her to the ground.
Eyewitnesses can be heard in the recorded footage urging Ms Weinman, who is from Philadelphia, to stop resisting the police officers.
The video was captured by Alexis Hewitt, 19, of Williamstown, New Jersey. She said she was with friends when she was startled awake by the commotion.
"When she fell that's basically when it caught my eye because everyone was yelling and I woke up, and I got my camera out right when she went down," Ms Hewitt told ABC News.
Ms Weinman was arrested and charged with disorderly conduct after she was found in possession of alcohol on the beach, police said. She was also charged with resisting arrest and aggravated assault on a police officer "by spitting bodily fluids".
The Wildwood Police Department said it had opened an internal investigation over the actions of its officers after it was made aware of the reports.