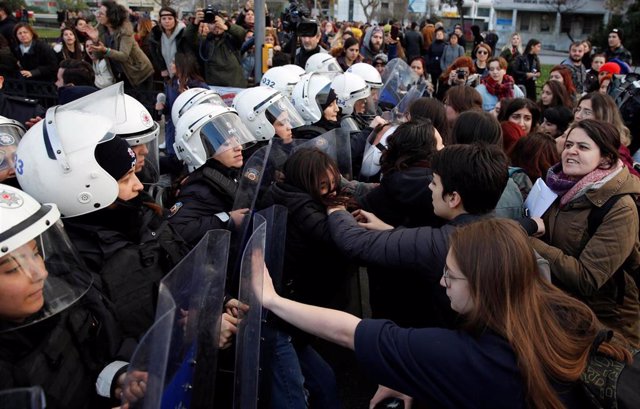 Protest against sexist violence in Istanbul – REUTERS / UMIT BEKTAS
MADRID, Dec 8 (EUROPE PRESS) –
Turkish police have dispersed more than 300 women who had concentrated in the Asian part of Istanbul to protest against sexist violence and made seven arrests. The participants intended to represent the performance 'A rapist in your path', popularized by the Chilean feminist collective LasTesis.
The agents have used pepper spray against women who have seconded the convocation of the Women's Assembly in the Kadiköy district of the Turkish city. Agents have charged after a first warning calling for the dissolution of the protest, according to the Turkish news portal Ahval.
"We have not been able to do LasTesis in Spanish. It is a shame. We have come to shout against the violence of the patriarchate and they have attacked us," one of the participants complained.
Among the detainees are the General Secretary of the Women's Assembly, Fidan Ataselim, and another of its members, Aysen Ece Kavas, has informed the group through its Twitter account.
LasTesis' performance went viral on networks on the International Day Against Violence against Women, on November 25, and since then it has been represented in cities such as Bogotá, New York, Madrid, Paris and New Delhi.
Some 390 women have been killed by men in Turkey so far this year, 49 of them only in November, according to the feminist organization Anti-Sayaç.