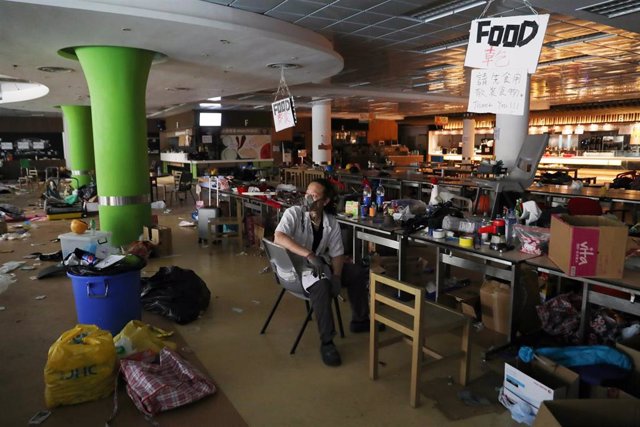 Hong Kong Polytechnic University cafeteria amid protests – REUTERS / LEAH MILLIS
MADRID, Nov. 23 (EUROPE PRESS) –
The Hong Kong Police have warned on Saturday that there are still minors inside the premises of the Polytechnic University of Hong Kong, besieged for a week by security forces, and has invited protesters to leave peacefully.
"Some of those still on campus are minors," said the Police, according to Hong Kong public television, RTHK.
The police have invited the protesters who are still inside to leave the campus and have pledged that the minors will not be detained on their way out.
These may leave after identifying themselves and being photographed, although they reserve the option of taking action against them in the future, explained the Police, which undertakes to "bring criminals to justice in a fair manner." He also maintains that there is dialogue and contacts with different sectors to achieve "solutions". Among them are Polytechnic staff, social workers, regional deputies, religious leaders and clinical psychologists.
Among the latest news on Saturday is the departure from the campus of a chef who was preparing food for the protesters locked inside the university, in the cafeteria, and two more people. He has been taken by ambulance to a hospital.
Some 500 protesters were trapped in a police fence over the Polytechnic last Sunday. Since then, most have left the premises and all those over 18 have been identified and detained and the campus has become a ghost zone.
The president of the Association of Directors of Secondary Institutes of Hong Kong, has re-entered this Saturday on campus to try to convince those who remain inside to deliver. The few protesters he has been able to find have refused to leave and he has been able to verify the poor hygienic conditions inside.
Protests in Hong Kong broke out last June against a controversial bill of extradition to mainland China. Lam finally withdrew the bill but the demonstrations have continued with greater demands, including universal suffrage.
Violence in Hong Kong has thus become the biggest challenge for Chinese President Xi Jinping, who came to power in 2012 and insists that the local government can resolve the crisis.
The protesters, angry at what they consider an interference of the Chinese government in the former British colony, have argued that they are responding to the excessive use of force by the security forces. Beijing, meanwhile, has rejected any kind of intervention in Hong Kong affairs and blamed the situation on the influence of third countries.