Police allow the evacuation of a hundred protesters in the siege of the Hong Kong Polytechnic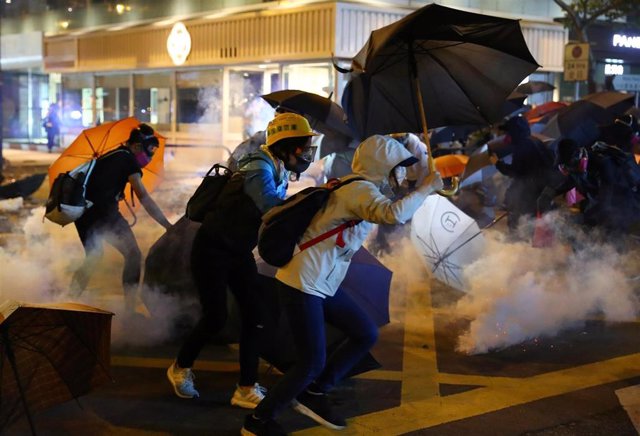 Riots in Hong Kong – REUTERS / ATHIT PERAWONGMETHA
MADRID, Nov. 18 (EUROPE PRESS) –
The Hong Kong Police have allowed a hundred people to leave the Polytechnic University of Hong Kong, besieged by security forces since Sunday. Inside there would be about 400 activists.
The operation is the result of the efforts of a group of representatives of directors of secondary schools that would have negotiated with the Police the evacuation of minors who were trapped on campus, although the evacuees have been identified by the authorities, so They could be processed.
Protesters over 16 years old were immediately arrested and taken to police facilities, reports RTHK public television in Hong Kong.
The deputy of the Hong Kong regional assembly Ip Kin Yuen participated in the mediation, as well as the former president of the assembly Tsang Yok Sing and the law professor Cheung Tat Ming. Tsang has explained that among the evacuees there are 50 minors and a similar number of adults.
The university has become the scene of strong clashes between protesters, who have set fire to the main access of the campus, and the agents, in which there are already the most violent riots in the last five months of protests.
About 500 people were trapped by the police fence on Sunday and it seems they still have water, but food is beginning to run out. In addition, protesters have ensured that there are several seriously injured or with symptoms of hypothermia due to police attacks with water cannons.
Meanwhile, thousands of protesters have taken to the streets in support of the hundreds of students locked in the Polytechnic and radical groups have confronted the Police in the Kowloon neighborhood, turned into a war zone on Monday night, according to picks up the public television hongkonesa.
Protesters dressed in black have thrown dozens of Molotov cocktails against the agents in an attack against the police cordon that surrounds the Polytechnic and the agents have responded with abundant tear gas and blue-dyed water cannons to identify those responsible.
Protests in Hong Kong broke out last June against a controversial bill of extradition to mainland China. The head of the Hong Kong Government, Carrie Lam, finally withdrew the bill, but protests have continued with greater demands, including universal suffrage.