Platinum miners 'burned beyond recognition' in arson
The workers were being transported to Modikwa platinum mine in northeast South Africa when two men stopped the vehicle near Burgersfort on Monday night.
They got on and doused the bus with a highly flammable liquid, before setting it alight.
The four men and two women who died were "burned beyond recognition", National Union of Mineworkers (NUM) secretary Phillip Mankge said.
Some 28 others were taken to hospital with burns after the attack on the bus, which was carrying about 50 people.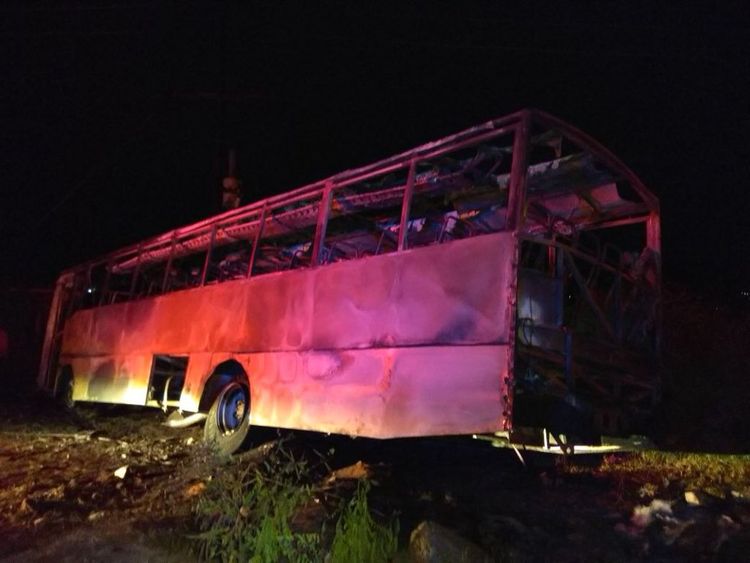 Police are offering R500,000 (£30,000) for information that leads to any convictions.
Limpopo police commissioner Nneke Ledwaba said the motive for the attack is not yet known.
"We will not sleep until the people responsible for this gruesome incident are apprehended'" he told South Africa's Sunday Times newspaper.
Production at Modikwa mine, operated by African Rainbow Minerals and Anglo American Platinum, was temporarily suspended on Tuesday.
In 2016, the mine produced more than 16,300kg of platinum, gold and other precious metals.
South Africa is the world's top platinum producer and in recent years the industry has been rocked by periodic bouts of violence and labour unrest.
In 2012, 34 striking workers at Lonmin mine in Marikana were shot dead by police sent to break up a demonstration.
The wildcat strike occurred amid complaints over low pay and conflict between the ANC-linked NUM and the Association of Mineworkers and Construction Union (AMCU).
In November, two AMCU workers were arrested for allegedly shooting dead an NUM branch secretary at Evander gold mine.