Plastic pollution: 'Scourge' of debris on beaches tackled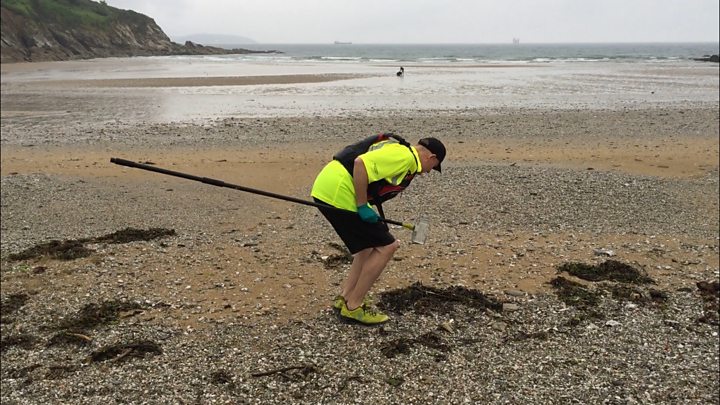 More than 500 beaches will be checked weekly in a bid to tackle the "scourge" of discarded plastic, the Environment Agency (EA) has said.
Working along the English coastline, a team will log the amount and type of plastic found in each area.
The agency hopes to identify the worst-hit beaches and use its findings to better regulate the problem.
More than eight million tonnes of plastic enters the world's oceans each year.
The damage to marine wildlife was highlighted on the BBC's Blue Planet II, which helped to provoke a range of measures from the government and community groups.
'Plastic-free coastline'
The EA's dedicated monitoring team was formed after a £750,000 investment in tackling plastic pollution was announced in January.
Fishing nets and false teeth: Meet the debris hunters
Guide: Why is plastic a problem?
Seven charts that explain the plastic pollution problem
'Every tide brings new litter'
Kirstie Edwards, lead co-ordinator for Plastic Free Falmouth, said: "After storms and in the summer months there's a huge increase in plastic drink bottles and generic wrappers such as crisps and ice creams.
"We also find a lot of broken-up plastic – fragments of tampon holders, bottle lids, brightly coloured parts of old buckets.
"The biggest problem is that every tide brings new litter and plastic to be cleaned.
"We encourage people to do mini beach cleans as much as they can and use 'the rule of three' – take a minimum of three pieces home.
Based in the south west, the team covers the entire coast of England and will perform checks alongside the agency's regular water quality sampling.
Head of the new plastics and sustainability team Bruce Newport said the new initiative gave them "another level of detail".
"If we find beaches that are heavily contaminated with plastic we will work with community groups, non-government organisations and we will actually work with local companies.
"Depending what needs to be done we can support or regulate to try and reduce the scourge of plastic which is hitting our beaches causing many many problems," he said.
More than eight million tonnes of plastic enters the world's oceans each year and about 90% of seabirds have eaten it.
Mr Newport added: "Having a clean beach not only is good for wildlife, not only is it good for people who come here – it's good for our economy as well.
"By being responsible with the use of plastics we can achieve that. And having a plastic-free coastline is our ambition."