Pink on 'ageing naturally': Singer praised for response to 'troll'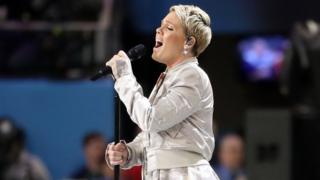 Pink has been praised for having the "perfect" response to a "troll" who abused her for looking "old".
A Twitter user said she looked "so old" she should be named "Purple instead".
"You must be from LA," Pink replied, before continuing: "There are a few people left in the world that choose to age naturally. And I've earned every minute of my 38 years."
Actor Josh Gad praised the singer's response, saying he loves Pink "with all my heart".
Reese Witherspoon also backed up Pink's comments.
Pink didn't leave it there though.
Skip Twitter post by @Pink
I am of the mindset that it's a blessing to grow old. That if your face has lines around your eyes and mouth it means you've laughed a lot. I pray I look older in 10 years, cause that will mean I'm alive. 🤙🏼

— P!nk (@Pink) May 16, 2018
End of Twitter post by @Pink
It's not the first time Pink has been celebrated as someone who just says the right kind of thing.
Picking up the Michael Jackson Video Vanguard Award at the 2017 Video Music Awards she gave an emotionally powerful, intelligent and articulate speech.
Aimed squarely at her young daughter, then aged six, who was worried about looking like a boy – Pink put her straight in such a beautiful way.
She explained how her daughter had said she felt she was the "ugliest girl I know" because she has straight hair and believes she looks like a boy.
Pink then told her about famous stars who'd embraced being androgynous and quoted names including Freddie Mercury, David Bowie, Michael Jackson, Annie Lennox, Prince and Janis Joplin.
She said these A-listers "were probably made fun of everyday of their lives but live their truth… and carry on, wave their flag and inspire the rest of us".
She added: "We don't change, we take the gravel in the shell and make a pearl and help other people to change so they can see more kinds of beauty."
Follow Newsbeat on Instagram, Facebook and Twitter.
Listen to Newsbeat live at 12:45 and 17:45 every weekday on BBC Radio 1 and 1Xtra – if you miss us you can listen back here.