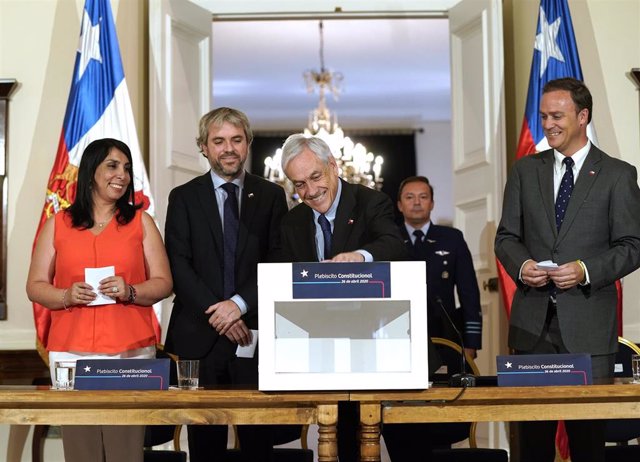 The president of Chile, Sebastián Piñera, signs the call of the constitutional plebiscite – CHAIR CHAIR
SANTIAGO, Dec. 27 (Agency One / EP) –
The president of Chile, Sebastián Piñera, signed on Friday the decree calling for the April 26 the plebiscite in which it will be decided if a new Constitution is drafted and how it is done, the main demand of the protesters who left at streets in october.
"As we have said and done during the last 30 years, again with a pencil and with a paper citizens can express our opinion and define the paths that our country will travel," Piñera has valued during the signing ceremony, held in The Palacio de La Moneda.
Piñera highlighted the importance of Chileans participating in the referendum, "not only by voting, but by expressing opinions", in accordance with "the principles and virtues of peace, respect and dialogue".
In the case of political parties and social organizations – promoters of protests against the Government – it has called them to "care, peace, democracy and the rule of law."
When asked what he will vote, the head of state has refused to answer. "I vote for Chile," he has sentenced. "The Constitution has to be the great framework of unity and stability for our society," he added.
Piñera has thus formalized the decision adopted on November 15 by Congress to hold a referendum for Chileans to decide whether to approve or reject the proposal to draft a new Constitution.
If he wins the option to move towards a new Magna Carta, Chileans will have to decide in the same referendum between a constituent assembly composed of citizens elected for it and an instance that includes the participation of at least 50 percent of congressmen and the other half with members elected for that purpose.
Protests in Chile broke out on October 17 against the fourth rise in the price of the subway in a few months and grew rapidly to denounce social inequality and raise the need to elaborate a new Constitution.
Piñera, who came to declare the state of emergency deploying to the Armed Forces, apologized for not hearing the clamor of the Chileans and proposed a "social agenda." To make it happen, he remodeled the Government and initiated a dialogue with the political parties, both opposition and official.
More than 20 people have died from clashes between protesters and security forces and more than a thousand have been arrested. The National Institute of Human Rights (NHRI) has denounced torture and other abuses against people detained in the context of the protests.