Piñera speaks with former Chilean presidents before continuing protests in the country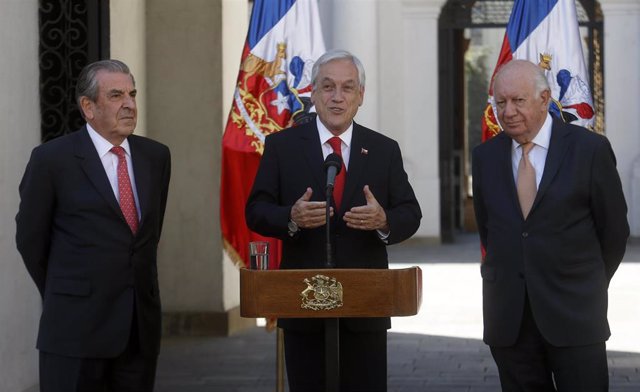 The president of Chile, Sebastián Piñera with former presidents Eduardo Frei and Ricardo Lagos – CRISTOBAL ESCOBAR / AGENCIAUNO – Archive
MADRID, 12 Nov. –
Chilean President Sebastián Piñera has spoken in the last hours with his predecessors in office, including the current United Nations High Commissioner for Human Rights, Michelle Bachelet, before the continuation of protests across the country, which this Tuesday they have forced Congress to close again, despite the "social agenda" announced by the Government.
La Moneda reported on Tuesday that Piñera met Monday with Eduardo Frei (1994-2000) and Ricardo Lagos (2000-2006) and spoke by phone with Bachelet (2006-2010 and 2014-2018). The Government, cited by the Chilean media, has only said that they dealt with issues related to the wave of protests, without going into details.
Protests broke out on October 17 for the fourth rise in the price of the subway in a few months but quickly escalated to denounce social inequality. At least 19 people have died and over a thousand have been arrested for clashes between protesters and security forces. The National Institute of Human Rights (NHRI) has denounced torture and other abuses to the arrested people.
Piñera, who initially responded by declaring the state of emergency, finally apologized to the Chileans for not having heard their demands, announced a "social agenda" and remodeled the Government to carry it out. In addition, he has been willing to reform the Constitution, as protesters now claim.
Despite this, the protests have continued almost daily. "The truth is that, of course, the president made a mini change, but there is a lot of abuse that is and is not enough. This movement is not left or right, it goes beyond," Valentina Donoso, a student at 21 years selling bread in the center of Santiago.
Santiago will live on Tuesday a new day of protests in which public employees and students are called to strike. The capital has dawned with roadblocks, in some cases with barricades on fire. Thus, things, companies and businesses have chosen to adjust schedules or not open directly to possible altercations.
The Congress, located in the city of Valparaíso, has suspended the sessions scheduled for this Tuesday due to connection problems with Santiago. The legislative headquarters has been one of the scenarios of the riots in previous days, with clashes between police and groups of protesters who sought to assault Parliament.