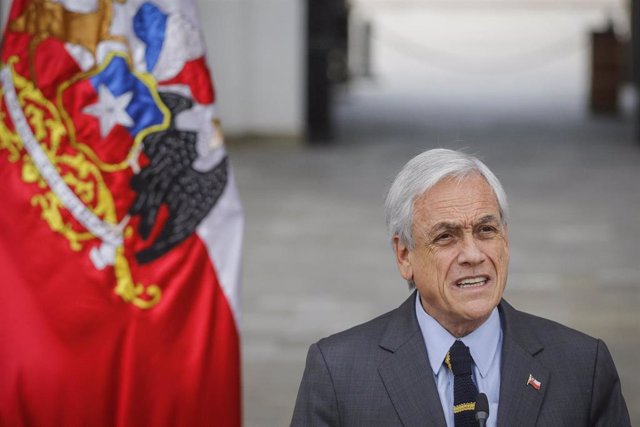 The president of Chile, Sebastián Piñera – AGENCIA UNO / SEBASTIAN BELTRAN GAETE
SANTIAGO, 25 Nov. (Agency One / EP) –
The president of Chile, Sebastián Piñera, announced Monday that he will send a bill to Congress so that the Armed Forces can be deployed to protect key infrastructure without declaring the state of emergency, despite the strong criticism it has generated.
"It is essential to have the collaboration of the Armed Forces … to protect critical infrastructure, such as ensuring the supply of electricity, drinking water or telecommunications services," he said.
The tenant of La Moneda has clarified that this does not imply that the military will take care of public order, if the bill is approved, but that they will do so only at specific times, as has been done "in almost all advanced democracies of the world. "
Piñera has wielded that, as head of state "he has to resort to all the instruments that allow the Constitution and the law to protect the life and security of all Chileans."
"The critical infrastructure is that essential for the functioning of our country and our society; to protect the life and security of all our countrymen," he said.
The Chilean president has taken this step after meeting with the presidents of the Senate and the Chamber of Deputies and with the heads of the Supreme Court and the Attorney General's Office.
"The project, which we are analyzing in its details and content, we have discussed with many people from all sectors and we will continue to do so," he said.
However, it has advanced that the Government will send the draft to Parliament "today or, at the latest, tomorrow." "We will send it with immediate discussion," he said.
Piñera's measure has been received by strong criticism from opposition sectors in the context of repression of protests, which has been carried out by police and armed forces and has left about 20 dead and hundreds injured.
The protests broke out on October 17 for the fourth rise in the price of the subway in a few months but grew rapidly to denounce social inequality and demand a constitutional change.
Piñera initially responded by declaring the state of emergency to deploy the Armed Forces, in a country where the presence of the military in the streets is still a sensitive issue almost 50 years after the coup against Salvador Allende.
Amnesty International (AI) has denounced that Chilean security forces have carried out "widespread attacks using force unnecessarily and excessively" against protesters with the intention of "harming" to deter protests against Piñera.