Pimped out at 15 – why I have been criminalised?
She has struggled against prejudice and been denied access to education because of her past.
Now she is backing a court battle by ex-prostitutes – all exploited and trafficked as teenagers – to change the law over the retention, recording and disclosure of their convictions. Here she explains why:
I had the misfortune to meet an older man when I was 15 and he introduced me to prostitution within two weeks of meeting me.
He groomed me, he took control of me in a really powerful way and trafficked me to London from Bradford and put me on the streets.
He threatened to kill me if I didn't comply with his demands. That day I lost my identity, I lost my self worth and ended entrenched in a violent world for 11 years.
My criminal record is eight pages – double-sided – with prostitution convictions – and I was actually a juvenile when they first convicted me.
I was with one pimp in Bradford but I escaped from him through an older woman and was placed in the hands of another pimp, who controlled me for five years.
I'd become 'another', I'd invented this other being, kind of disassociated from Fiona.
I had a lot of attitude, I was cocky. I'd been very well groomed by my pimp and I was told exactly what to say to the police. I repeated it word for word when I was finally arrested.
The night I was arrested by the Leeds vice squad, in Chapeltown, my pimp was stood at the side of me and they said hello to him and referred to him on first name terms.
The legislation is that the women and the girls have to report the pimp – but you're so well groomed you're convinced it's your boyfriend and that he loves you, and that he only hits you and beats you because you deserve it.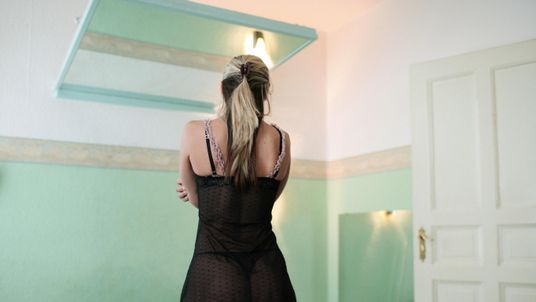 It's the ignorance of people that somehow women who have been entrenched in prostitution are deviant
It's very similar to domestic violence and the dynamics used.
I went to the police station, and I believe they phoned my parents that night, and my parents didn't come. They sent a duty social worker and then they sent me back to my pimp's address knowing I was a vulnerable girl who was missing for 18 months.
I appeared in a juvenile court and was remanded in a lock-up unit for girls for three months.
Eventually I got away from my pimp and I did attempt to go to college, but they found about my record and I was frogmarched from the school that I was doing a placement at to learn childcare.
I went back into prostitution. I was really so damaged.
I worked in brothels – from one end of the country to the other – I worked in Bristol, I worked in Edinburgh… I was working at the time at a brothel in Doncaster, watching the local news.
My cousin's face came on the news and she had been murdered by a sex buyer.
I've never sold myself since that day. I've been at activist and campaigner for the past 21 years to stop other girls experiencing what I did.
But that fact that I've got this criminal record – I'm gonna be 50 – you can hear how upsetting it is. I live with this catalogue of abuse, and it's horrendous.
I was on the parents' and teachers' association at school and I had to be scrutinised by the head teacher. It's the ignorance of people, you know, that somehow women who have been entrenched in prostitution are deviant women.
It couldn't be further from the truth.
I couldn't access university – I wanted to be a social worker – the university told me that because I've got a criminal record I won't be able to get a placement, so I wouldn't be able to fulfil the needs to receive the degree.
I'm reluctant to apply for jobs, I've only ever applied for jobs with people I know, because people who don't know me just see that (the criminal record).
Since we launched the case last July I've had lots of women contact me privately, on Messenger, through social media, thanking me; they've lived a nightmare.
I'm very outspoken, my family aren't very happy with me, my publicity. In my right mind I know I'm not dirty, I know I'm not disgusting. But it really it taps into the trauma that's very deeply rooted.
It's the first day of the (court) hearing and to be honest I've got mixed feelings because whenever I go into a court I do get triggers; it triggers my experience of what happened.
But this time I'm in there with pride, dignity, and I'm going to hold my head up high – for all the women, all the women – and the men.
A really dear friend has travelled all the way from Yorkshire to hold my hand.
I've had many barriers and still face judgement because of this catalogue of abuse that people do not understand. And without me explaining and going through the horror of what happened to me, I'm judged.
It would be so freeing (to win the case); also a recognition we're not criminals, we're victims of abuse.
I'm not troublesome, I'm not violent, not abusive, I've raised a beautiful son. I'm a decent member of society.
Many of the women who I've supported are – years and years later – having to use sleeping tablets and various things to cope with the abuse. Some their families don't know, their husbands don't know, Their children don't know – because they're terrified of the judgement.
I know of a woman who is looking at getting custody of her grandchild and social services have written in the report that 28 years ago she was arrested for soliciting – she was 16.
More from Opinion



James Brokenshire MP: The moment I learned I had a lesion on my lung




The day Johnny Cash went to prison




A day in my life: Being a paramedic can feel like eat, sleep, work, repeat




Is a month without booze worth it? Experts on Dry January




Harriet Hawkins: Parents of stillborn baby say report is just a start




Numbers that check the NHS pulse
It beggars belief, just beggars belief.
There's a vested interest in keeping girls and women – or vulnerable boys – responsible for sexual violence and abuse. We can see what that's done to our society and how much that is covered up and supported perpetrators for donkey's years.