Pi ñ era sees in the protests "a great opportunity" to "lead a transition to a fairer society"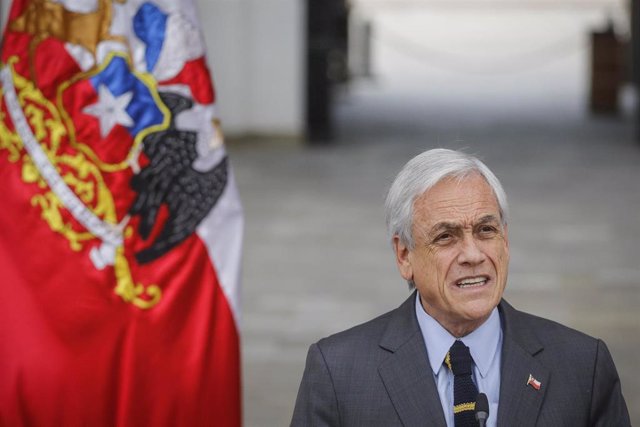 The president of Chile, Sebastián Piñera – AGENCIA UNO / SEBASTIAN BELTRAN GAETE
Calls to "end all violence" to focus on the "enormous challenges and opportunities of the future"
NEW YORK, Dec. 18 (EUROPE PRESS) –
The president of Chile, Sebastián Piñera, has insisted on Wednesday that the wave of protests that the country has suffered in recent months to denounce social inequality is "a great opportunity" to "lead a transition towards a more just society."
"30 years ago, with the firm will of our people, we recovered our democracy peacefully and gave life to a new and modern Republic, based on three basic principles: a deep commitment to democracy and the rule of law, an economy of free market and a firm determination to defeat poverty, "he said in a column published in the 'New York Times'.
Piñera has valued those achieved these years, pointing out that Chile tops the Latin American list of per capita income and human development index, which has allowed the emergence of "a broad and thriving middle class." "The facts speak for themselves," he considered.
Despite this, he acknowledged that the social movement – "the largest in our recent history" – reflects the discomfort of Chileans due to "excessive inequalities, low pensions, quality and cost of public services, abuses in the supply of goods and services and other problems that had been accumulating for decades. "
"It is the legitimate expression of a living and vital democracy, which gave us the opportunity to connect better with our citizens and lead a transition towards a more just society and with greater equal opportunities, where progress and development are more inclusive and sustainable. ", has considered.
This new transition, he has argued, requires "a strong sense of unity, urgency and responsibility" on the part of all affected actors. Piñera has highlighted the Government's initiative in promoting a "national dialogue process" to meet the "main concerns, demands and aspirations", the preparation of a "social agenda" to make them a reality and the adoption of "a necessary fiscal discipline" to Fund it.
"This social protest became a great opportunity to build a new future for Chile", because "a State cannot reach full development if a significant part of its population or territory is not participating in the generation and benefits of growth" , has held. "We have no time to lose, because there will be no social justice without growth and development, and there will be no growth and development without social justice," he stressed.
However, he has denounced that in the context of this protest movement that he believes legitimate, there has been "a huge and unexpected outbreak of violence", with "fires, riots, destruction and crime, which has caused serious damage to the body and soul From Chile".
Piñera has taken the opportunity to vindicate the Government's action to "restore public order and citizen security", defending that "he took all necessary measures and precautions to ensure maximum respect for the Human Rights of all".
"In these difficult times, our best ally has been our democracy, our institutions and our rule of law, which remained intact and played an essential role during the emergency," he said.
The Chilean president has stressed that to fulfill social aspirations "there is an indispensable condition": "Do not tolerate any form of violence, nor any type of abuse of Human Rights". "We must end all violence, recover social peace and focus on the enormous challenges and opportunities of the future," he said.
Piñera has pointed out as the main challenge "forging a new social pact", for which the country has entered into a constituent process. "I am sure that Chileans will once again demonstrate the noble and supportive soul of our country. Together we will build a freer, fairer, more fraternal and more prosperous country, a country that we can call our common home, everyone's home, where we can think differently but respect our differences and together build a better future for all, "he said.