Pi ñ era raises the curfew in Santiago after applauding the "exemplary" march on Friday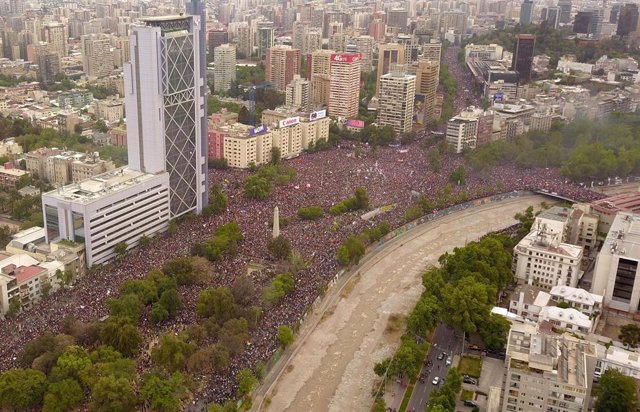 Protest in Santiago, Chile – SAMIR VIVEROS / Agencia Uno / dpa
MADRID, Oct. 26 (EUROPE PRESS) –
The president of Chile, Sebastián Piñera, has ordered the lifting of the curfew in Santiago after the "exemplary" behavior demonstrated by the million citizens who went out on Friday to the streets of the country to express their criticisms of economic policy in peace of the government.
"Yesterday's march was exemplary," Piñera said in a speech collected by Chilean national media, although he acknowledged that the protests have left "a gigantic damage not only to large companies."
"We have seen a message that was very present in the souls of Chileans, as they have expressed it with an eloquence that has reached us all. Yesterday's march was a strong message. A message from a vast majority of Chileans asking a fairer, more supportive Chile. We all hear that message. We have all changed and are with a new attitude, "he said.
However, Piñera expressed his desire to "end the state of emergency as soon as possible" minutes before the FF.AA. The country will begin to announce the gradual uprising of the curfew, first in Valparaíso, then in Concepción and finally in Santiago.
"During the course of the days, the Metropolitan Region has reached normality rates, both in the operation of the city and in the lives of the inhabitants, achieved thanks to the contribution of all citizens. In consideration of the above, it has been evaluated that the current conditions allow to resolve that there will be no curfew in the metropolitan region of Santiago from this moment, "said the Army in a statement.
Also, the Ministry of Interior has indicated a "decrease in serious events" during the early hours of Saturday in the country, "from 61 to 33, including two fires caused to Supermarkets in Pudahuel and Valparaíso."
Piñera has concluded his appearance with the promise of publishing a definitive balance of the victims during the protests when there are guarantees that the riots have ended throughout the national territory.