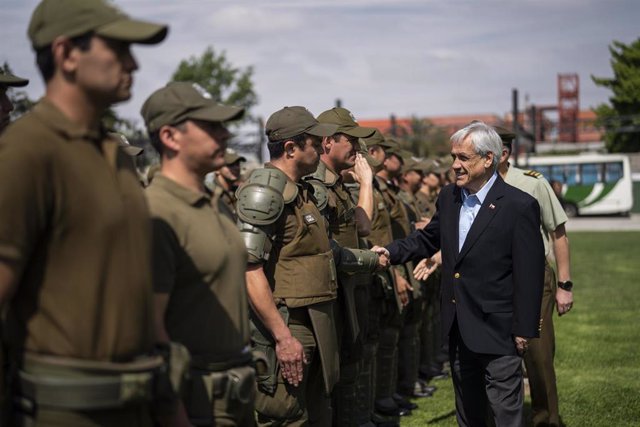 The president of Chile, Sebastián Piñera, with police officers – CHILE PRESIDENCY
SANTIAGO, Nov 28 (Agency One / EP) –
The president of Chile, Sebastián Piñera, asked the security forces on Thursday to act without "lukewarmness" because they face a "powerful enemy", alluding to the violence that has splashed the mass demonstrations against the Government.
"I want us to be aware," Piñera said at the graduation ceremony of 260 police inspectors. "We must not give space here either to lukewarmness or ambiguity, much less to weakness. We are facing a powerful and implacable enemy," he stressed.
Piñera has emphasized that this "enemy" to which he has referred "does not respect anything or anyone", recalling the score of dead left by the riots and damage to "basic infrastructure" for now. It is "an enemy that acts with professional planning and with an evil without limits," he said.
So, he has considered that in these "very difficult times" Chilean society "needs more than ever the services of law enforcement and security, the Police and Police."
In addition, he has stressed that Congress must approve as soon as possible the bills that the Government has sent "to combat the hooded, the looters, the vandals." "We require more severe laws," he has argued.
Specifically, it has once again defended the bill that will allow the deployment of the Armed Forces without the need to declare a state of emergency to protect "critical infrastructure". "In special circumstances we need to be able to count on the collaboration of our Armed Forces," he said.
This same Thursday the Senate has approved the so-called "anti-hooded" bill that stiffens the sanctions against those who commit crimes during public events and, specifically, against those who do so by hiding their identity. The penalties range from 541 days to three years in jail.
Protests in Chile erupted on October 17 over the fourth rise in the price of the subway in a few months but grew rapidly to denounce social inequality and demand a constitutional change.
About 20 people have died from the repression of the demonstrations. The National Institute of Human Rights, in addition to Amnesty International and Human Rights Watch have reported human rights violations at the hands of security forces.
Piñera, who initially responded by declaring the state of emergency and deploying military personnel, apologized to the Chileans for not knowing how to "listen", announced a "social agenda" and remodeled the Government to carry it out. It has also embarked on a constituent process. Despite this, the protests continue.