PFI deals 'costing taxpayers billions'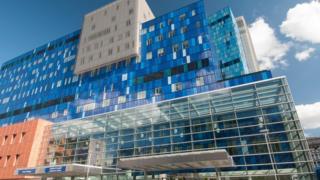 Taxpayers still owe private contractors £199bn for deals signed under the Private Finance Initiative (PFI), a spending watchdog says.
The National Audit Office (NAO) found 716 public projects were active under PFI and its successor PF2, with annual costs amounting to £10.3bn in 2016/17.
This was despite a lack of evidence to show they offered better value than public procurement, it said.
The government said both PFI and PF2 improved public services.
The report was written before the collapse of Carillion, which held numerous public contracts, including those under PFI, from building schools to maintaining prisons and highways.
Labour has called the government negligent for handing public contracts to the firm even when it became clear the company had problems.
Launched under John Major's government, PFI allowed the government to borrow from private consortiums to build facilities like schools, hospitals and roads, in return for regular payments over as many as 30 years.
However, the NAO said there had never been a "robust evaluation" of the benefits, despite claims PFI reduced risk to the taxpayer and led to higher quality facilities.
The watchdog said the private finance route resulted "in additional costs compared to publicly financed procurement".
For example, it said the capital raised through PFI cost 2% to 3.75% more than from state borrowing.
"Small changes to the cost of capital can have a significant impact on costs," it added.
"Paying off a debt of £100m over 30 years with interest of 2% costs £34m in interest. At 4% this more than doubles to £73m."
In the past PFI deals have been accused of leading to huge cost overruns and indebting NHS trusts.
The union UNISON called the report "a scathing indictment of all that is wrong with PFI".
Meg Hillier MP, chair of the Public Accounts Committee, said the NAO had found "little evidence" that PFI's benefits offset its costs.
"Many local bodies are now shackled to inflexible PFI contracts that are exorbitantly expensive to change," she said.
The government said PFI and PF2 had funded vital infrastructure projects like roads, schools and hospitals and had helped the economy.
"Taxpayer money is protected through PFI and PF2 as the risks of construction and long-term maintenance of a project are transferred to the private sector," she added.
At Prime Minister's Questions on Wednesday, Labour leader Jeremy Corbyn urged the government to end the "costly racket" of private sector firms running public services.
He also hit out at the "wildly excessive" bonuses paid to Carillion directors.
The Prime Minister said a third of government contracts with Carillion were agreed by the previous Labour administration, adding she wanted to provide "good quality public services, delivered at best value to the taxpayer".