Peter Wrighton murder trial: Ex-soldier found guilty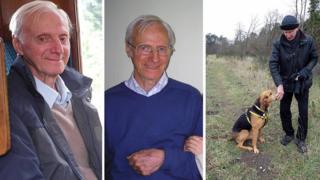 A former soldier has been found guilty of murdering an 83-year-old dog walker who suffered 45 knife wounds.
Alexander Palmer, 24, was accused of attacking Peter Wrighton, with a knife in woodland near East Harling, Norfolk, last August.
At Nottingham Crown Court, the former soldier had admitted being in the area but denied murder.
Palmer, of Cringleford, will be sentenced on Thursday so Mr Wrighton's widow can attend.
Mr Justice Goose said: "The widow of the deceased followed proceedings yesterday and may wish to witness the sentence tomorrow. She should be given this opportunity.
"It is inevitable the defendant will receive a sentence of life imprisonment – it will be up to me as to the minimum term he will have to serve."
Palmer mouthed the words "I love you" to his family as the judge sent him down to the cells.
He showed no emotion as the jury took 49 minutes to reach the guilty verdict.
During the trial the court was told police were initially unaware of Mr Palmer and concluded the victim had been attacked and killed by some sort of animal, due to his throat injuries.
But a psychologist who had treated Mr Palmer at RAF Marham read press reports of the case.
She contacted the force telling them she thought he could be responsible for the death.
Prosecutor Stephen Spence said Mr Palmer told medical professionals a voice in his head called "Little Alex" instructed him to harm people or kill them.