Peru uacute; present á at the end of the month a "general policy" for the Government after the closing of the Congress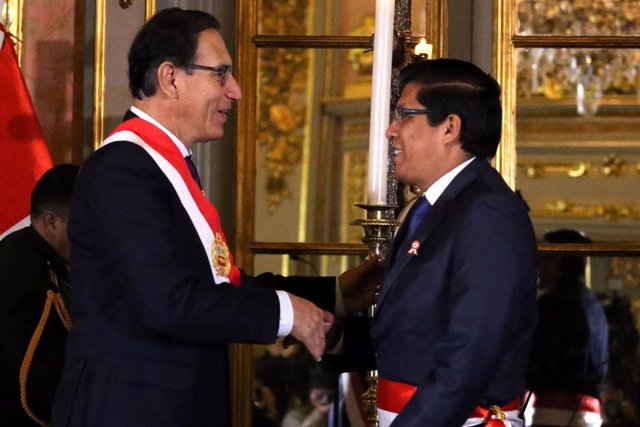 The president and the new prime minister of Peru, Martín Vizcarra and Vicente Zeballos, respectively – REUTERS / GUADALUPE PARDO – Archive
MADRID, Oct. 20 (EUROPE PRESS) –
The Council of Ministers of Peru has announced that it will present at the end of October a "general policy" of the Government after the closure of the country's Congress due to a confrontation between the Executive and the Legislative on account of the constitutional reform that the president intended to carry out , Martín Vizcarra.
"Last week we will give a message to the country as appropriate (…). In the absence of Congress we will propose between Monday 28 and Tuesday 29 the general policy of the Government, in order to transmit security and confidence to the country" , has announced the president of the Council of Ministers, Vicente Zeballos, to Radio Programs of Peru, according to the Peruvian news agency, Andina.
According to Zeballos, the objective of exposing this policy is to generate confidence in the Peruvian population and business, as there is "some uncertainty" that needs to dissipate.
"We believe that it has to be a solid message and that it breaks with this uncertainty," he stressed. "In the first days of management we have met with different business associations and mayors' associations," he added. "The institutional life of the country does not stop," said the head of the Council of Ministers.
The political crisis in Peru reached its peak when the Congress overthrew the constitutional reform and the consequent electoral advance that the Government of the country sought.
Vizcarra responded with a political maneuver to at least advance the appointment with the polls. Thus, the Prime Minister, Salvador del Solar, launched a question of confidence with the intention that it be rejected, because the second 'no' of the Legislature to the Executive forces to dissolve the Parliament and call early elections. The Government has already received its first rejection during the Presidency of Pedro Pablo Kuczynski.
The deputies refused to debate and vote on the issue of trust and Vizcarra counterattacked by closing the Congress and calling early elections by interpreting that in this way the honorable members had withdrawn their trust to their Cabinet. Parliament also did not fall behind and ceased the president for "moral incapacity."
The constitutional reform is the cornerstone of the political reform that Vizcarra promised when he came to office to end the corruption that ended the Presidency of Pedro Pablo Kuczynski and that has also splashed the last four presidents and the opposition leader, Keiko Fujimori, as well as the judiciary.