Pep Guardiola: Man City boss says players did not over-celebrate at Man Utd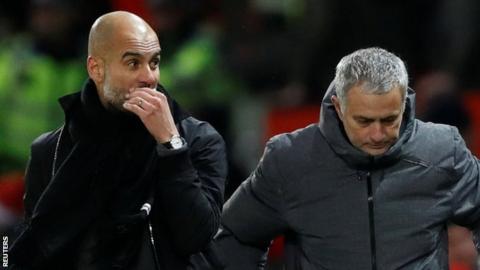 Manchester City boss Pep Guardiola has denied his players over-celebrated Sunday's derby win over Manchester United, saying: "I am the guy who encouraged each other to celebrate."
United boss Jose Mourinho had milk thrown at him outside the Old Trafford dressing rooms after objecting to City's reaction on Sunday.
Guardiola claimed his side did not go too far following the 2-1 victory.
"Definitely not," he said. "It was the same after the Southampton game."
The Spaniard added: "That was 96 minutes or something like that, but we were happy. It was a derby, it was the closest rival."
After the players and staff headed down the tunnel following Sunday's match, it is understood Mourinho complained outside the visitors' dressing room as he made his way to interviews.
In the ensuing row Mourinho had water and milk thrown at him, while City coach Mikel Arteta suffered a cut head after he was hit by a plastic drinks bottle. It is not known who threw it and sources from both clubs say no punches were thrown during the incident.
City's victory took them 11 points clear at the top of the Premier League.
On Monday the Football Association announced that both clubs have until Wednesday to reply to a request for their observations into the incident.
Guardiola said he hoped what occurred in the tunnel between the dressing rooms "will not happen again".
He added: "People have to understand that we were happy. I think all the teams around the world when they win a derby, they are so happy. When we won with Bayern we were happy, with Barcelona we celebrated.
"We will make a statement to the FA. I am not going to comment about that."