Pelosi says Trump would have admitted to being involved in "bribes" in the Ukrainian scandal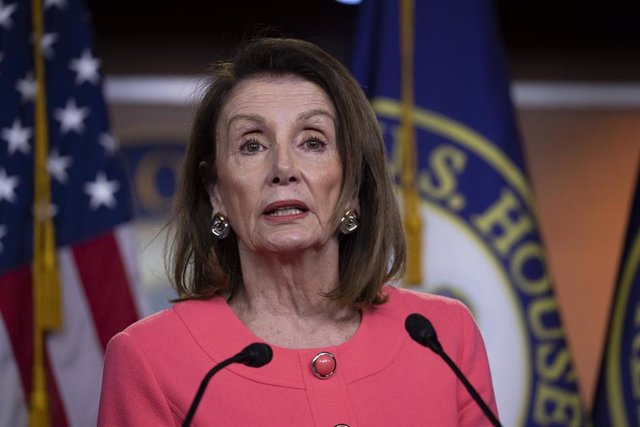 Nancy Pelosi – Alex Edelman – Archive
MADRID, Nov. 14 (EUROPE PRESS) –
The president of the House of Representatives of the United States, Nancy Pelosi, said Thursday that the president of the country, Donald Trump, would have admitted to having been involved in "bribes" in the framework of the scandal for his call with his Ukrainian counterpart, Volodimir Zelenski
"What the president has admitted to doing and says that it is 'perfect', I say it is perfectly wrong. It is a bribe," he said, according to the CNN television network. Trump has said several times in the past that his telephone conversation with Zelenski was "perfect."
After being asked about what the bribe would be in the case under investigation, Pelosi has argued that "it was to guarantee or block military aid in exchange for a public statement or a false investigation into the elections." "That's a bribe," he has riveted.
Congress on Wednesday hosted the first public hearings in a new phase of the impeachment process against Trump over alleged pressure on Ukraine to investigate a political rival, Democratic candidate Joe Biden.
The House of Representatives has become the epicenter of US policy by hosting the sessions of the mixed commission that has been trying to determine for months if there is a legal basis to press charges against Trump and unleash an impeachment process that could end his cease just one year from the next presidential elections.
In these months, the commission has questioned behind closed doors the witnesses of the alleged maneuvers of Trump and his closest collaborators to get the Ukrainian authorities to open an official investigation against Biden and his son Hunter for alleged corruption in their business with a company Energy of Ukraine.
The alarms were activated when the content of a telephone conversation took place on July 25 between Trump and Zelenski. "What you can do with the attorney general will be great," the New York tycoon told him, according to the transcript released by the White House itself.
Now, in this series of public hearings that will take place between Wednesday and Friday, the commission will investigate whether Trump tried to condition the military aid that the United States provides to Ukraine, in the framework of the armed conflict in Donbas and the Russian annexation of Crimea , to investigations against the former Democratic Vice President and his son.
With these public hearings, which are being broadcast live by the main televisions and are expected to have a considerable audience, the mere investigation phase is closed.
Once concluded, the commission will have to decide whether to press charges against Trump, which would lead to the impeachment process in the strict sense, that is, a political trial in the Senate that would end his acquittal or dismissal.
Only three US presidents have undergone an 'impeachment'. The first was Andrew Johnson after the civil war and, more recently, Bill Clinton, who was tried and acquitted for lying about his relationship with former White House Fellow Monica Lewinski. Richard Nixon, on the other hand, resigned before being dismissed by the 'Watergate'.
The political and media expectations for these open views contrast with the apparent disinterest of Trump himself. "I am too busy to see it … I am sure they will give me a summary," he said Wednesday to press questions from the White House. In addition, he stressed that it is "a witch hunt". "There is nothing," he said.