PDC World Championship: Two female players guaranteed main-draw places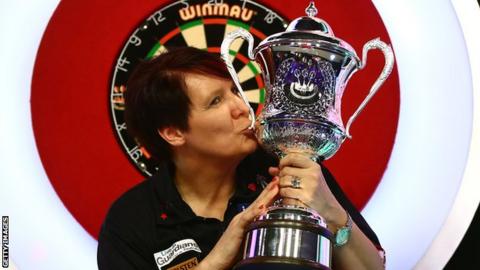 Two female players will be part of an expanded field for the 2019 PDC World Championship, which will also have a record prize fund of £2.5m.
The tournament at the Alexandra Palace – beginning on 13 December and finishing on 1 January – will feature 96 players, an increase from 72.
There will be UK and Rest of the World qualifying events for women, with both winners reaching the main draw.
Gayl King and Anastasia Dobromyslova have previously featured in the event.
King lost 3-1 to Graeme Stoddart in the first round of the 2001 tournament while Dobromyslova was beaten 5-3 by Remco van Eijden in the preliminary round of the 2009 event.
"Moving to 96 players will not only reward more players… but also gives us the opportunity to expand the international qualifiers," said PDC chairman Barry Hearn.
"We also felt it was important to guarantee two places for female players.
"This promises to be an incredible tournament."
England's Rob Cross will defend his title, with the new champion winning £500,000.