Passengers stuck on trains for 14 hours show 'Dunkirk spirit'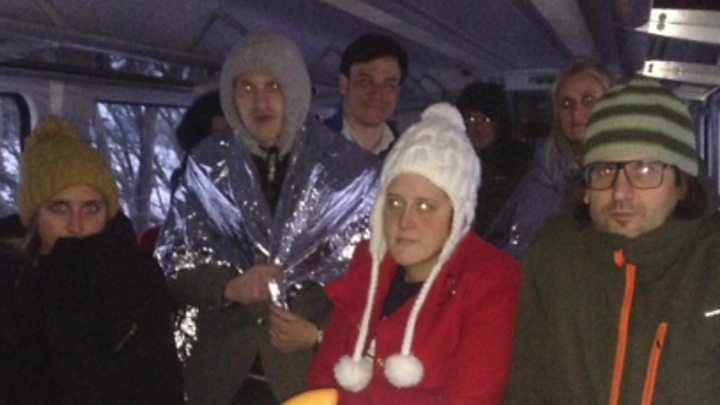 Passengers were stuck for up to 14 hours when at least three trains ground to a halt as freezing conditions hit lines in the New Forest in Hampshire. But what is it like to be one of the unlucky few, spending the night in a cold carriage full of strangers with no way out?
Robert Luther was among about 100 passengers on a five-carriage train which left London Waterloo bound for Weymouth early on Thursday evening.
The electric train ground to a halt near New Milton, Hampshire, due to ice on the conductor rail. With the line blocked, other services backed up.
The situation was "unbelievable", he said.
"A chap had a packet of biscuits – people shared what they've got.
"It's fortunate people had winter clothing – it looked like we were going on ski trip. We haven't had fresh water or heating since 8-9pm.
"The toilet pans were full up and we couldn't get off the train either.
"It shouldn't happen in this day and age, it's not as if we've got three-foot of snow on the tracks."
They were eventually rescued at about 08:00 GMT on Friday.
Phillip Brown, who was travelling home from London on a 17:05 South Western Railway service said: "It prevents you from sleeping when you get that cold, so it was a case of walking up and down to get some temperature back and keep warm.
"People were taking it in their stride, but I felt sorry for the guard and the driver. They weren't getting any information."
Harold Hanna, from Barton on Sea, was stuck with 50 other passengers on the line between Sway and New Milton.
He said that, despite the chilly conditions, he had made some new friends as the "Dunkirk spirit" flourished among his fellow passengers.
Others posted pictures on social media showing them trying to bed down for the night.
Martin Hemmingway was stuck on a CrossCountry train and had an altogether different experience.
"CrossCountry were brilliant," he said.
We were fed and watered and warm through the night, I've nothing but praise for them. The staff were wonderful."
South Western Railway issued a statement earlier apologising to passengers.
It said: "Passengers will be taken to Bournemouth station where we have staff waiting to give them hot food and drinks."
The firm said it "sincerely apologised" to the stranded passengers and organised a train to rescue them.
The company said it would be closing down its service by 20:00 GMT on Friday and urged people not to attempt to travel.