Passengers jump on to Lewisham train tracks after delays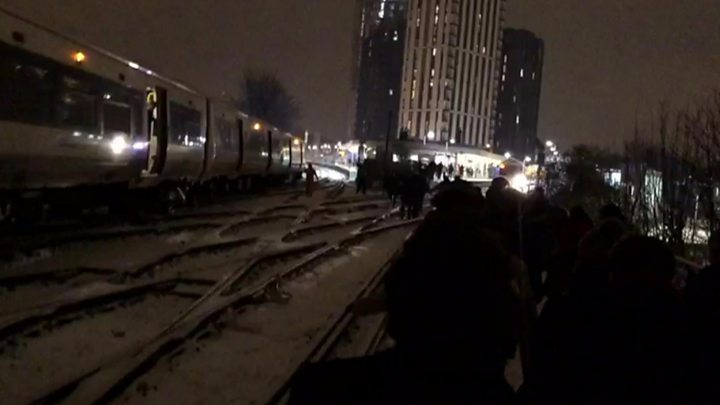 Southeastern rail services were disrupted after passengers grew frustrated at delays in south London, and began walking down the tracks.
Trains in Lewisham were held up after a passenger pressed the emergency button and got off when their train was held outside a station.
Several people then followed suit, causing the police to be called for assistance.
Southeastern said passengers could have been killed on the live tracks.
The company asked passengers to remain onboard.
At about 22:20 BST Southeastern said all trains were now running again.
Passengers complained of being cold, tired and stranded for up to three hours on a broken down train without heating, lights or use of the toilet, before fleeing through an emergency exit.
"Southeastern Railway has called in help from the police and fire service after frustrated passengers on four trains in Lewisham, south London left the carriages and started walking down the tracks", a spokesman for the company said.
"There are currently severe delays to trains in the Lewisham area following a serious trespass incident.
"We've had to turn the power off for safety reasons, and staff are currently working to clear the trespassers from the tracks so that we can get trains moving again.
"We completely understand that passengers on delayed and busy trains may be frustrated, but they simply must stay on the train for their own safety.
"These trespassers risk being electrocuted by the 'third' rail or hit by other trains. They're also causing significant further delay for other passengers that our staff are working hard to get home."
Skip Twitter post by @Se_Railway
#Lewisham – we are looking to recharge the tracks in the next 10-15 minutes. Once we have absolute confirmation that everybody is off the tracks we will get you on the move and off trains. Please remain patient.

— Southeastern (@Se_Railway) March 2, 2018
End of Twitter post by @Se_Railway
Skip Twitter post by @TfLBusAlerts
Buses serving the Lewisham area are unable to serve stops in Lewisham Station Road due to emergency vehicles attending an incident in Lewisham Station

— TfL Bus Alerts (@TfLBusAlerts) March 2, 2018
End of Twitter post by @TfLBusAlerts
British Transport police said it had "all available officers and emergency response teams deployed to help evacuate passengers on the trapped trains in the Lewisham and surrounding areas."
Mick Cash, leader of the Rail, Maritime and Transport union said its members were out "working in appalling conditions on our railways and they deserve nothing but total respect and support."
"Tonight's incidents have once again raised some serious issues about the capacity of Britain's railways to cope with added pressures from adverse weather."
At about 22:20 GMT Southeastern said all trains were now running again.