Parts of UK could hit 28C but storms are on way
Gravesend in Kent and St James's Park in London both recorded the highest temperature of 24.8C in the afternoon.
Across the rest of the southeast, the average temperature was 24C – the same as sunny Madrid.
Rome and Athens, in comparison, were 22C.
Sunbathers in the UK took the chance to soak up some rays in parks and on beaches, with Brighton beach full of people enjoying the warm weather.
In other parts of the UK, temperatures reached 21.2C in Plymouth and 21.8C in Cardiff.
Scotland saw a high of 19.7C in Kinloss, and Northern Ireland enjoyed a mild 18.7C in Derrylin, Co Fermanagh.
Sky News weather producer Christopher England says Thursday will be even warmer, with temperatures of between 26 and 27C.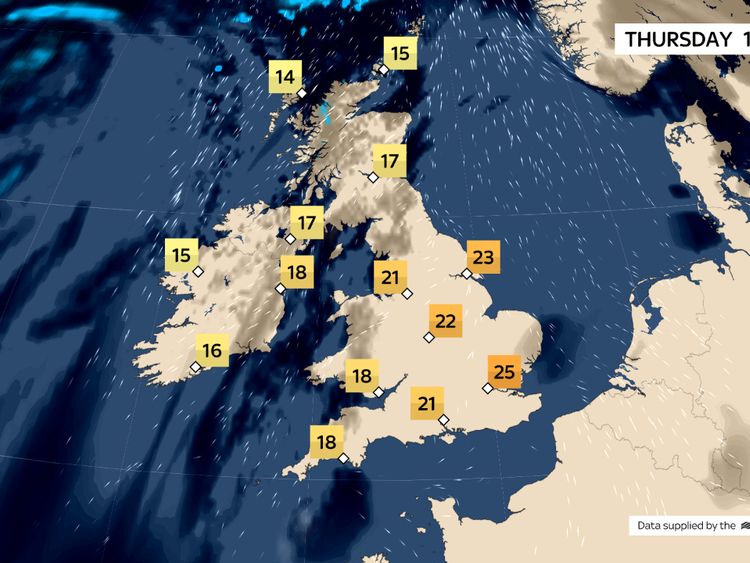 The southeast will remain the warmest but other parts of the country will still benefit from the heat coming up from Spain.
The UK average for mid-April is 11.4C.
Workers hoping for the weekend to remain warm will still get to enjoy the sunshine, but may be slightly disappointed as by Friday the maximum temperature will drop to 24C in the southeast.
In Scotland, temperatures will be around 14-15C.
And by the weekend, the weather will be cooling off to 20C in the southeast.
London Marathon runners should note it could reach 22.7C in the capital – though cloud cover may help cool temperatures.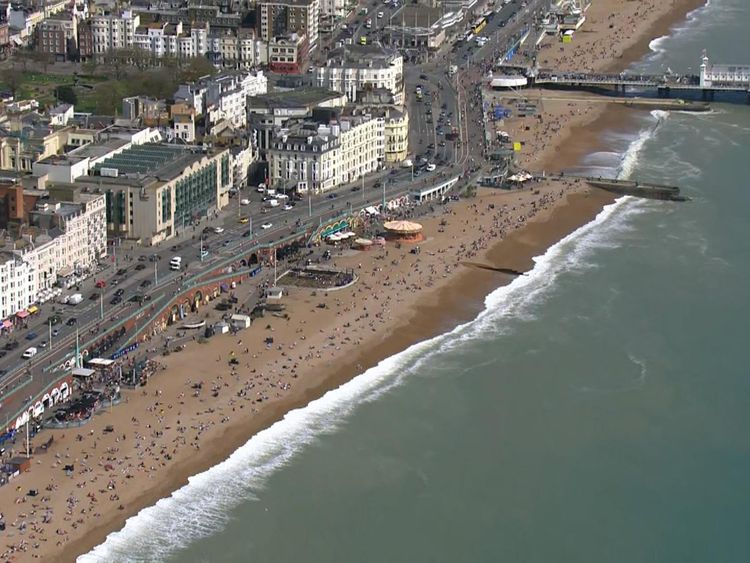 Met Office meteorologist Mark Wilson said: "After quite a dull and chilly start to spring this is the first bout of real warm sunshine that we've seen.
"The sun at this time of year is nearly equally as strong as it can be in the summer so people just need to be cautious of that and make sure that they do look after themselves."
Saturday could see isolated showers in parts, while there is "uncertainty" about what Sunday's weather will bring.