Parents fool children with Easter 'treats'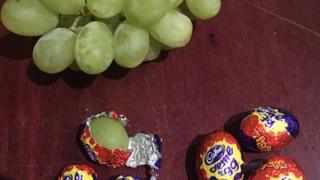 The last time it happened was in 1956, so many people made the most of this year's Easter Sunday falling on April Fool's Day.
Parents took to fooling their children by disguising fruit and vegetables as chocolate treats.
Grapes in sweet foils and Brussels sprouts covered in chocolate were just some of the images being shared online.
Staging an egg hunt with no eggs also seemed a popular choice among prankster parents.
Sydney-based playwright Saman Shad made some "special Easter eggs" for her children.
But it seems the children got some sweet revenge with their comeback.
Robin Heath was described as an "evil genius" for her Easter "treats".
While Ellie Valentine said the combination of Easter Sunday and April Fool's Day was "an opportunity too good to miss".
It was not an "eggcellent" morning for poor Jacqueline.
For those of you who may have been caught out, you have 11 years to hatch a plan for revenge as it is expected Easter Sunday will fall on 1 April again in 2029.
By UGC and Social News team