Palestinians strike a general strike in Gaza to protest the US peace plan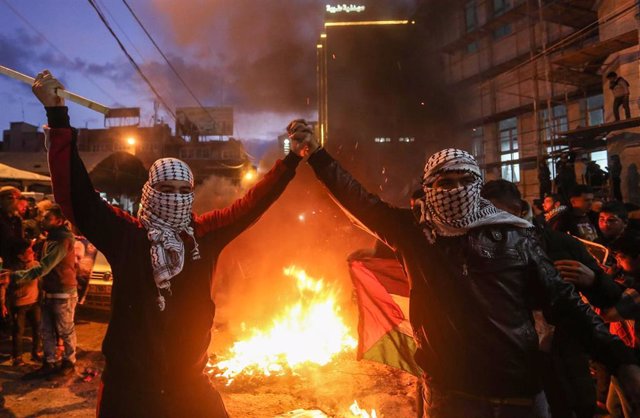 Protest against the US peace plan in Gaza – Ashraf Amra
MADRID, 29 Jan. –
The Palestinians of the Gaza Strip have seconded a general strike on Wednesday in protest against the peace plan for the Middle East devised by US President Donald Trump, known as 'the agreement of the century', as reported by the agency of Palestinian news WAFA.
According to WAFA, businesses, government buildings and academic centers have not opened their doors, so the Palestinian territory has been virtually paralyzed.
The general strike was called late Tuesday by the Committee of National and Islamic Factions in Gaza against 'the agreement of the century'. On the same Tuesday, thousands of Palestinians marched to the headquarters of the UN Agency for Palestinian Refugees (UNRWA) in Gaza City.
There were also protests in the Gazací localities of Rafá and Bureij. Protesters burned images of Trump and Israeli Prime Minister Benjamin Netanyahu, and carried banners that read: "Palestine is not for sale."
The general strike has also been largely followed in the Palestinian camps in Lebanon, which is home to some 600,000 Palestinian refugees. The peace plan contemplates, among other issues, that the Palestinians who fled with the creation of the State of Israel obtain the nationality of the host countries, thus denying the right to return.
This Wednesday a protest took place in the Jordan Valley, a territory that the peace plan leaves in Israeli hands. Israeli outskirts have attacked with batons, stun bombs and tear gas leaving at least eleven injured, according to WAFA.
'The agreement of the century' points to Jerusalem as the "indivisible" capital of Israel, which would retain control of the Jewish colonies and the Jordan Valley, while Palestine would have its capital in East Jerusalem.
Trump defended, in an appearance in the White House together with the Prime Minister of Israel, Benjamin Netanyahu, that it is a "realistic" solution to guarantee the peaceful coexistence of two states and urged the Palestinians to accept this "opportunity", which "could be the last. "