Paddy Jackson and Stuart Olding in court on rape charges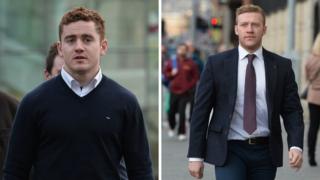 A court has been told that Ulster rugby players Paddy Jackson and Stuart Olding both raped a 19-year-old woman after a night out at a Belfast nightclub.
The players, who both deny the charges, are on trial at Belfast Crown Court.
Mr Jackson, 26, from Belfast's Oakleigh Park, is charged with one count of rape and one count of sexual assault. Mr Olding, 24, from Ardenlee Street, Belfast, is also charged with rape.
Two other men have also been charged in connection with the case.
Blane McIlroy, 26, of Royal Lodge Road, Belfast, is charged with one count of exposure while Rory Harrison, 25, of Manse Road, Belfast is charged with perverting the course of justice and withholding information.
Both deny the charges.
Prosecutors opened the trial with a description of the alleged events in Paddy Jackson's Belfast home.
The court was told that the woman at the centre of the case went to a nightclub in Belfast with a group of friends on 27 June 2016.
The court heard that they went to a VIP section where some Ulster rugby players were present.
The prosecution said the woman went back to Mr Jackson's house at Oakleigh Park with three other young women, who she did not know personally but who were mutual friends of a close friend.
According to the prosecution, she ended up in Mr Jackson's upstairs bedroom "consensually kissing him" but made it clear that she did not want to go any further.
She then went downstairs but later realised she had left her clutch bag upstairs and claims that Mr Jackson followed her when she went to retrieve it.
The prosecution said that Mr Jackson then "pushed her onto the bed before pulling her trousers and pants down" before raping her.
'Considerable pain'
"He had not in any way sought her consent and indeed had used force to achieve his aim," a prosecuting lawyer said.
The prosecution told the court that the woman did not attempt to fight him off but felt "numb" throughout what happened.
The court was then told that, while this was happening, Stuart Olding entered the room and that she said to Mr Jackson: "Please, not him as well."
The prosecution said that Mr Olding positioned himself on the bed in front of her face and forced himself on her.
While this was happening, prosecution said that one of the three other women who were in the house came into the bedroom and that Mr Jackson asked her if she would like to join in.
Warning: Explicit language
The woman left and, according to the prosecution, Mr Jackson continued to attack the 19-year-old and "caused her considerable pain".
The prosecution also outlined the case against Mr McIlroy and Mr Harrison.
The prosecution added that Mr McIlroy sent Paddy Jackson a text that asked: "Is there a possibility of a threesome."
The court also heard that he later entered the bedroom naked and asked for sex, to which the woman replied: "How many times does it take for a girl to say 'no' before it sinks in?"
The woman then got dressed and left the bedroom.
The prosecution said that Mr Harrison was "ostensibly concerned for her welfare" and offered to share a taxi home with her in the early hours of the morning.
However, the prosecutor added that Mr Harrison "sought to cover up what he realised had happened and tried to mislead the police enquiry that followed".
'Rugby scum'
Later that day, Mr Harrison sent the woman a WhatsApp message to check if she was okay.
The court was told that she replied: "To be honest, no. I know you must be mates with those guys but I don't like them. And what happened was not consensual which is why I was so upset."
At around 09:00 BST that morning, the prosecution said she texted a close friend and said: "I got raped by three Ulster fucking rugby scum."
She then texted another friend with the message: "I got raped."
Asked if there was more than one person involved, she said: "Two and then a third tried to get involved… I was crying… there was a really nice guy there who took me home."
When told by a friend she should go to the police, the court heard that she replied: "I am not going to the police. Going up against Ulster rugby. Yeah because that'll work."
The court then heard that a friend persuaded her to go to The Rowan, a sexual assault referral centre in Antrim.
The prosecution said that a doctor who examined her found she had bruising and bleeding.
"These findings would be consistent with blunt trauma to the area but do not demonstrate whether the intercourse was consensual or not," the prosecution added.
'In hysterics'
The woman went to the police the next day, 29 June 2016.
The court heard that the taxi driver who took her home on the night in question described her as being "very upset" and added: "It was obvious she had had a really rough night."
According to the prosecution, the day after the alleged attack, Stuart Olding sent an explicit WhatsApp message to a group of friends boasting about the events of the night.
One of his messages said: "It was like a merry-go-round at a carnival."
The court heard that Rory Harrison later texted Blaine McIlroy and told him: "Mate, no joke, she was in hysterics. Wasn't going to end well."
Judge's warning
Mr Jackson was arrested on 30 June 2016. In a statement, he said: "I strenuously deny these allegations. I am shocked and horrified that these allegations have been made against me."
Mr Olding and Mr McIlroy were also arrested on that date. They too denied the charges.
Mr Harrison was originally treated as a witness but the prosecution said there were "shortcomings" in his account.
He was interviewed under caution in October 2016 and later charged with perverting the course of justice and withholding information.
He denies the charges.
The judge warned the 12-person jury not to come to any conclusions on the case until they had heard all the evidence.
The trial continues.