Özil and Gündogan meet German president after Erdogan photos row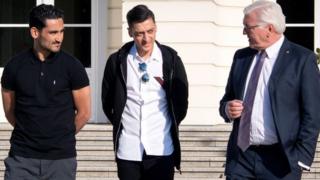 Two German footballers of Turkish origin have met President Frank-Walter Steinmeier after criticism of photos showing them with Turkey's president.
Turkey's governing AK Party released the photos of them with Recep Tayyip Erdogan ahead of elections there.
Some German politicians said it seemed Mesut Özil and Ilkay Gündogan were endorsing Mr Erdogan – which they deny.
Germany has criticised the Turkish leader's crackdown on political dissent following a failed coup.
Özil, who plays for Arsenal, and Manchester City player Gündogan gave Mr Erdogan signed shirts at an event in London last week.
Both players are preparing to play in next month's Fifa World Cup in Russia, where Germany is among the favourites. Turkey did not qualify.
The German football federation (DFB) had also criticised the pair.
"The two players contacted us and the DFB and wanted to clear this issue up," Germany coach Joachim Loew told reporters.
They met President Frank-Walter Steinmeier at the presidential palace in Berlin.
"It was important to both of them to clear up the misunderstandings," said President Steinmeier.
He said that Özil had told him he stood by Germany, while Gündogan affirmed that "Germany is clearly my country and my team".
"Both assured us that they had not wanted to send any political signal with that action," DFB President Reinhard Grindel said.
"They also stated that they stand for our values on and off the pitch and that they identify with them."
Mr Erdogan, in power for the past 15 years, is seeking re-election in a snap poll on 24 June.
His Islamist-rooted AK Party has cracked down hard on opponents, especially since the July 2016 coup attempt by military officers.
Turkish police have arrested more than 50,000 people accused of links to US-based Islamic cleric Fethullah Gulen or to Kurdish separatists. They include opposition activists, journalists, teachers, lawyers and other public servants.
Mr Erdogan has also purged the military, police and judiciary, putting many state officials on trial.
After the criticism of last week's meeting, Gündogan issued a statement defending himself, Özil and a third player of Turkish origin Cenk Tosun over their meeting with Mr Erdogan.
They met on the sidelines of an event at a Turkish foundation that helps Turkish students, he explained.
"Are we supposed to be impolite to the president of our families' homeland?" he asked.
"Whatever justified criticism there might be, we decided on a gesture of politeness, out of respect for the office of president and for our Turkish roots."