Oxfam sex scandal: Charity to set up independent commission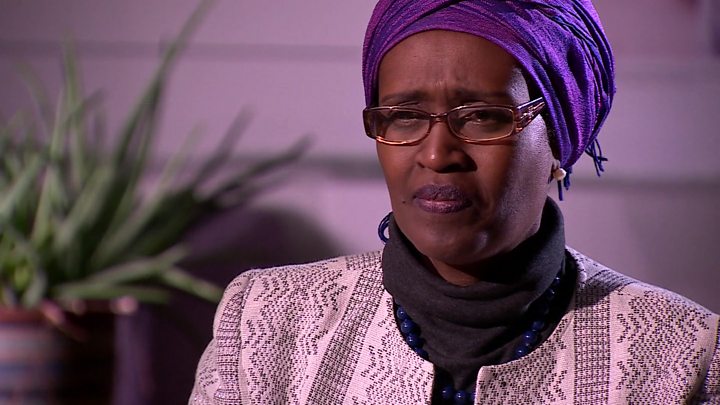 Oxfam says it will set up a commission to investigate past and present allegations of exploitation by staff.
Oxfam International's executive director Winnie Byanyima said it would "do justice" and "atone for the past".
The new commission will develop a "global database of accredited referees" to make sure sex offenders cannot "reoffend somewhere else".
The British charity has faced criticism over the way it handled claims staff hired prostitutes in Haiti in 2011.
Ms Byanyima, the most senior Oxfam executive to speak on the issue, said she first heard of the controversy after news reports last week and added: "I'm really inviting anyone who has been a victim of abuse by anyone in our organisation to come forward.
"I'm here for all the women who have been abused, I want them to come forward and for justice to be done for them."
In an interview with the BBC's diplomatic correspondent James Landale, she switched to speaking in her native Ugandan to make an apology: "From the bottom of my heart forgive us, forgive Oxfam."
Oxfam rehired man fired over sex claims

Catholic charity sacks former Oxfam worker

How much UK charity money goes to Oxfam?
She admitted she could not guarantee there were not sex offenders currently working at the organisation but vowed Oxfam would "build a new culture that doesn't tolerate that behaviour".
She explained that the reforms that will take place at Oxfam will include:
setting up a high-level independent commission that will look into culture and practices at the organisation, with a mandate to investigate past and current claims of sexual exploitation
doubling the budget for the charity's safeguarding team, and tripling the number of staff working in the department
setting up a global database of accredited referees to ensure sex offenders cannot falsify references and reoffend at other charities
making the organisation's "whistleblowing mechanism" external, safe and confidential
Ms Byanyima added one of her priorities was "to make sure that the work we do at Oxfam, of saving lives, of reaching vulnerable people, continues because it's vital, it must continue".
Earlier this month news reports said that during a humanitarian mission in Haiti in 2011, the charity's country director Roland van Hauwermeiren hired prostitutes at a villa paid for by Oxfam.
Mr Van Hauwermeiren, who left Oxfam in 2011 amid a sexual misconduct inquiry, has denied hiring prostitutes but said he had "intimate relations" with a woman who was "not a prostitute".
Oxfam had staff working in Haiti following the earthquake in the country killed about 200,000 people in 2010.
As a result of the revelation, the charity has faced staunch criticism from the British government and the Haitian president.
International Development Secretary Penny Mordaunt has threatened to cut the charity's government funding, which was £32m last year.
The charity has also lost a number of celebrity ambassadors including Good Will Hunting actress Minnie Driver, and Nobel Peace Prize winner Archbishop Desmond Tutu.
The Charity Commission is to launch a full inquiry into Oxfam as it has concerns the organisation may not have "full and frankly disclosed material details" about the Haiti sex scandal.
On Thursday a new allegation came to light that a worker fired by Oxfam over sexual misconduct allegations in Haiti was rehired later the same year by the charity.
Oxfam said its decision to rehire the man in Ethiopia was a "serious error".
Oxfam has almost 10,000 staff working in more than 90 countries across the globe.