Oxfam scandal: Ex-Haiti director denies paying for sex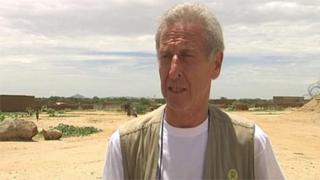 The former Oxfam director at the centre of a sex scandal that has engulfed the UK charity says allegations that he hosted parties with prostitutes are "lies and exaggerations".
But 68-year-old Roland Van Hauwermeiren has acknowledged that some of the details are "correctly described".
He has been accused of hiring prostitutes while delivering aid in Haiti after the 2010 earthquake.
A UK charity watchdog is investigating claims that Oxfam covered up the case.
Mr Van Hauwermeiren, who was director of Oxfam's operations in Haiti, has been accused by UK newspaper The Times of using prostitutes at a villa rented for him by the charity.
"A lot of people – even in the international media – will be blushing when they hear my version of the facts," Mr Van Hauwermeiren told Belgian newspaper Standaard (in Dutch) from his apartment on the Belgian coast.
"Not that I deny everything. There are things that are correctly described. But I also read a lot of lies and exaggerations. Party every week? Chic villas? Women paid with money from the organization?"
In his first comments since the claims emerged, he said "it was especially bad" that his family did not want to see him anymore, and that his lawyer would soon release an official statement.
After that, he said, he hoped to be left alone.
Since the revelations emerged, Oxfam – one of the UK's biggest charities – has confirmed that sexual misconduct occurred in Haiti, and that several staff members were dismissed or resigned after an internal investigation.
Mr Van Hauwermeiren left his post after the inquiry in 2011.
Oxfam's deputy chief executive Penny Lawrence resigned in the wake of the scandal, and the UK charity commission launched a statutory inquiry amid claims of cover-up.
The commission is also looking into claims that Mr Van Hauwermeiren was employed by Oxfam two years after he left another aid agency because of concerns about his behaviour.
The Belgian-born aid worker has also been accused of using prostitutes while working for British health charity Merlin in Liberia from 2002-04, a former colleague told the IRIN website.
Merlin later merged with Save The Children, which says it does not have access to Merlin's records.
He was then hired by Oxfam as a country director in Chad before moving to the Democratic Republic of Congo and Haiti, IRIN reports.
After he resigned his Oxfam post in Haiti, Mr Van Hauwermeiren ended up taking another high-profile position, as the head of mission for Action Against Hunger in Bangladesh.