Our sporting predictions for the year ahead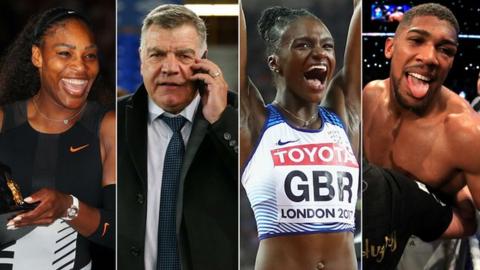 "Que sera, sera, whatever will be, will be."
Which is all very well if you are on a coach bound for Wembley, but not when it comes to 2018.
There are enough uncertainties to the new year, without sport adding to your worries.
Fortunately, help is at hand. BBC Sport journalists have grabbed a large pinch of salt with one hand, thrown caution to the wind with the other and can tell you what is in store for the next 12 sporting months. Definitely.
Football
BBC chief football writer Phil McNulty: Please take this in the spirit it is intended…
Manchester City will win an unprecedented Quadruple – beating Manchester United in the Champions League along the way – to leave both Red Devils boss Jose Mourinho and Chelsea counterpart Antonio Conte to ponder 'is it all worth it?' at the end of the season.
Sam Allardyce will be hailed as a hero by those who questioned his appointment as Everton manager by guiding the Toffees into the Europa League, while dozens of players in the Premier League will be linked to either Barcelona or Real Madrid, some on the basis of simply scoring in three successive games.
One man who will not move is Tottenham's Harry Kane. He will stay and lead the club into the next era at their new stadium on White Hart Lane.
England will surprise at the World Cup by not only actually navigating the group stage but by reaching at least the last eight, with manager Gareth Southgate rewarded with a new and improved contract.
Oh, and Rangers will appoint a new manager.
Formula 1
BBC chief F1 writer Andrew Benson: This is meant to be light-hearted and fun – so don't hang it around my neck come December.
The Formula 1 season will start with some kind of whizz-bang promotional event masterminded by new owners Liberty Media, whose attempts to spice up the sport will continue to provoke mixed reactions through the year.
Lewis Hamilton will win a fifth title but his closest rival will be Red Bull's Max Verstappen, not Ferrari's Sebastian Vettel.
Fernando Alonso is due some luck – it's coming up for five years, believe it or not, since he won a grand prix. So that duck will end this year with McLaren-Renault – and he will win Le Mans with Toyota.
Ferrari will win some races – but team boss Maurizio Arrivabene will leave/be sacked at the end of the season.
This will be Kimi Raikkonen's last season in Formula 1 – he will be replaced at Ferrari in 2019 by Charles Leclerc, who is making his debut this season with Sauber.
And Daniel Ricciardo will leave Red Bull at the end of the year to become Hamilton's new team-mate at Mercedes.
That would keep things spicy, wouldn't it?
Cricket
BBC Sport's Stephan Shemilt: The Ashes are gone, but England will show real cricket is played with a white ball, thrashing Australia and New Zealand in limited-overs cricket on both sides of the Tasman.
When they pull the whites back on, England's problems in Test cricket will be forgotten thanks to a spring in New Zealand, and May home matches against Pakistan – ideal conditions when you have more 84mph right-armers than you know what to do with.
Introspection will not be far away, though. After India's Virat Kohli conquers England, all will be asking why county cricket cannot produce genius batsmen. Ditto when Joe Root's men go to Sri Lanka in the autumn and we bemoan the lack of spinners.
In the first standalone Women's World T20, to be played in the Caribbean, England will add another trophy to the World Cup won in 2017, and Danielle Wyatt will be named player of the tournament.
Ireland will make their bow in Test cricket, with England fans demanding their team play at least three matches in Dublin every year.
Rugby union
BBC rugby union reporter Chris Jones: After breaking Scottish hearts at Murrayfield – yet again – England will be on course for a historic third successive Six Nations title, before a superb Irish performance derails the chariot at Twickenham on the final day.
France's impersonation of the England football team continues, with the national side limping to a fourth-placed Six Nations finish, while the Top 14 final is played in front of a 200,000 crowd in June.
Saracens' European dominance ends at the quarter-final stage, but the Wolfpack rally to win the Premiership title at Twickenham thanks to a controversial TMO decision, while Leinster seal a Champions Cup and Pro 14 double, with man-of-the-match Sean O'Brien paying tribute to Warren Gatland in the aftermath.
The heavily hyped meeting between England and New Zealand at Twickenham is something of an anti-climax, with the All Blacks winning by two points in torrential rain.
Off the field, players and administrators avoid a strike by coming to an agreement on a new season structure, with both parties hailing a "satisfactory compromise", although issues around player welfare continue, and are likely to be resolved in time for the 2032 season.
Rugby league
BBC rugby league correspondent Dave Woods: After a wonderful World Cup in 2017, club owners in both hemispheres will try their very best to ignore the international game in 2018.
American promoter Jason Moore wants to stage an England v New Zealand showdown in Denver in June 2018. The players want it, the international federation wants it, the two domestic governing bodies want it.
But given it needs the Aussie clubs to agree to a release of their players for the match to take place, don't go booking any flights to Colorado just yet. The Aussie clubs normally can't see beyond their own back gate, so it's less than likely to happen.
On the home front there will be a changing of the guard at Red Hall, with RFL chief executive Nigel Wood tipped to stand down. Twitter will rejoice. Then, before the year is out, the keyboard warriors will be demanding the head of Wood's replacement.
The amateur clubs will light up the early rounds of the Challenge Cup, but come the final we'll be asking why it's still being played on August bank holiday, when everyone wants it switched to May or June.
Magic Weekend in Newcastle in May will be joyful, the Grand Final in October will be spectacular. Then bring on the Kiwis for a three-match series in the autumn – in Hull, Liverpool and Leeds – to underline the importance of the international game.
Tennis
BBC Sport's Piers Newbery: With so much uncertainty surrounding many of the top names, and a younger crop of talent yet to fully convince, the safest bet for 2018 could well be more major titles for Roger Federer and Serena Williams.
With doubts surrounding the fitness of Andy Murray, Stan Wawrinka and now Rafael Nadal – who has pulled out a planned season-opener in Abu Dhabi – there is every reason to think Federer can add to his 19 Grand Slam titles.
In the women's game, 2017 saw real signs of new talent finally challenging the old order, none more so than Jelena Ostapenko's breathtaking barrage of winners on her way to French Open victory.
In the absence of Williams, leading contenders Simona Halep, Garbine Muguruza and Karolina Pliskova never quite fully convinced, however, as the next leading light of the WTA.
However, Halep may well add a Grand Slam title to her number one status, with the French Open hers for the taking one day as the pre-eminent clay-courter.
And, once her custody situation is hopefully happily resolved, there is no reason to think Victoria Azarenka cannot rival the current contenders for the big titles.
Golf
BBC Sport golf correspondent Iain Carter: This is the year when golf speeds up. In June, the European Tour stages the Shot Clock Masters in Austria with the idea of banishing the blight of slow play.
A ground-breaking tournament, competitors will be allowed only 40 seconds per stroke or face shot penalties for going over their allotted time. It is no gimmick and the event counts on the Race to Dubai and in Ryder Cup qualifying.
If successful, it could prove a blueprint to help the game become more attractive to watch and play.
There is no time to be wasted for Tiger Woods trying to make up for so long out injured, while Rory McIlroy will want to avoid a fourth successive year without a major win.
The US are overwhelming favourites to retain the Ryder Cup but Europe like it that way, so expect a classic contest at Le Golf National in September.
Wolverhampton's Aaron Rai is one to watch on the European Tour, and expect Jordan Smith to continue climbing the rankings.
There will be resurgent years for Bubba Watson, Adam Scott and Victor Dubuisson. Australia's Marc Leishman will break his major duck, and Ireland's Paul Dunne will challenge hard for a Ryder Cup spot.
Dorset's Georgia Hall will not waste qualifying for the LPGA Tour. Her presence there might hurry up fellow Englishwoman Charley Hull and accelerate the process of fulfilling her vast potential.
As I say, in 2018 speed is of the essence.
Boxing
BBC boxing correspondent Mike Costello: Once described as a "lawless state" by a judge in New York, boxing has no fixed calendar so looking ahead to any new year is largely a case of peering into the unknown.
Anthony Joshua, whose only defeat so far came against Mo Farah in Liverpool, has to beat Joseph Parker to set up a showdown against Deontay Wilder later in the year – a contest George Foreman has described as the best waiting to happen in world boxing.
Even bigger, in the UK, will be Joshua versus Tyson Fury but probably not until 2019. The 'Gypsy King' will be given his licence back in the next few weeks and is likely to fight at least twice before guiding the crosshairs onto Joshua.
Should Fury opt to showcase his immense talent on BT Sport, his decision will intensify an important broadcasting rivalry as Frank Warren leads the charge against Eddie Hearn and Sky Sports.
We travel only seven weeks into 2018 to savour George Groves taking on Chris Eubank Jr in the semi-finals of the World Boxing Super Series.
The Series has been a revelation, at cruiserweight and super-middleweight, but it is a business model as well as a fans' dream and a renewal in other weight divisions is no certainty.
Top of my wish-list in 2018 is for Amir Khan to dust off the spiders and face Kell Brook. It's long overdue and both are past their best but such conditions have led to classics in the past.
Horse racing
BBC horse racing correspondent Cornelius Lysaght: It may not seem terribly likely to his opponents, but the practically all-conquering Aidan O'Brien does actually go back to zero successes on 1 January.
And, obviously only whisper it at this stage, there's a chance the pride of County Tipperary could find the going heavy as he seeks to build on record-breaking flat-racing achievements in 2017.
Appearing over the horizon is 'General' John Gosden, with trusty lieutenant Frankie Dettori at his side, and a pretty impressive equine army behind them.
Prix de l'Arc de Triomphe-winning filly Enable and the brilliant colt Cracksman are both being aimed at the 2018 Arc – if both make it, Dettori's undoubted diplomatic skills will be tested, as he's forced to reject one in favour of the other.
Over jumps, hopefully all of the winners of last season's 'big four' races at the Cheltenham Festival will defend their titles – last time none returned, and we felt robbed.
Sizing John, hero of the centrepiece Gold Cup, has the potential to be an outstanding, multiple winner.
But be warned – we've said that about a whole lot of winners before, and only five horses have done it twice or more since World War Two.
Name them. Go on. Yes, Cottage Rake, Arkle, L'Escargot, Best Mate and, of course, Kauto Star.
And then there were six? Quite possibly. Gold Cup day is 16 March.
Athletics
BBC Sport's Mike Henson: The King is gone. Long live, well, who exactly?
With Usain Bolt enjoying his well-earned retirement, athletics has lost its brightest and only bona-fide crossover star.
The next generation is there. The brilliant Belgian Nafissatou Thiam is an world and Olympic champion while still hacking her way through a geography degree, South African Wayde van Niekerk will pull in fans with his Johnsonesque talent and easy charm, but watch out for Mutaz Essa Barshim.
The spring-heeled Qatari will hit the biggest landmark of the year, toppling the 24-year-old high jump world record set by Cuban great Javier Sotomayor and cementing himself as the figurehead of the 2019 World Championships in Doha.
On the domestic scene, the London Marathon's top-class field will swallow up Mo Farah on his return to road racing in April as the four-time Olympic champion, who has consistently denied any wrongdoing, awaits the result of a US Anti-Doping Agency investigation into former coach Alberto Salazar.
In Farah's wake, Dina Asher-Smith, still just 22, finally gets an injury-free run and comes a narrow second to Netherlands' Dafne Schippers in European 100m final in August, while the youthful rivalry between Jake Wightman, Charlie Grice and Josh Kerr pushes all three into contention for the 1500m crown.
With neither a World Championships nor an Olympics in 2018, expect the IAAF to take advantage of a relatively fallow year to sharpen up the sport's commercial edge.
As well as the introduction of world rankings and more street-level showpieces, such as those in Zurich's main station and the Great CityGames, each Diamond League host city will be assigned a multi-national 'team' of athletes to support at other meetings throughout the season.